Our new Archives & Special Collections Assistant, Joanne Ratcliffe, joined the Team in January this year. Here she tells us how she has been getting on…
As I am now approaching the end of my second month in my new job as Archives & Special Collections Assistant I thought this would be a good time to reflect on my first weeks in the role.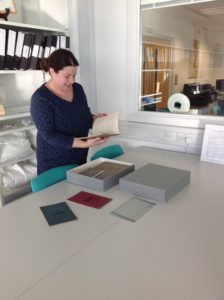 It has certainly been a busy few weeks since starting work with the Archives & Special Collections Team with not only lots to learn about the diverse material we hold and how to care for it but also getting to grips with things such as the multi-format AV equipment and book scanner.
One thing you can't help to notice about the team is their enthusiasm for the collections and for their dedication to making our collections accessible to researchers. Working in the research room I have already met and helped researchers from near and far, with the furthest travelling from Brazil to view material in our dance collection. It is always fascinating to hear about the research our visitors are working on and how our collections are helping them.
Now I have begun to become more familiar with the collections I have started to work on a number of different projects that so far include:
A review of our pest management policy to ensure that we doing all we can to protect our collections from creepy crawlies who might want to eat their way through our collections.
Conditioning checking of the Thomas Farrer Collection, a Victorian gentleman's library that has returned to us after being on long term loan.
Researching the collections for a forthcoming Archive display.
In the next few weeks I will also be starting to add images to Instagram of some of the items I have discovered so far. So follow us @uniofsurreyarchives and let us know if you like them too!