Whilst researching material for International Women's Day I was delighted to discover that the University presented the pioneering engineer Beatrice Shilling with an Honorary Doctorate in December 1969.
In her article 'Embarking on an Engineering Career in the Twenties' in the 1969 summer issue of the 'The Women Engineer' she details the difficulties of entering the engineering profession. As there were no grants or scholarships available for engineering courses for women Beatrice approached the London and National Society for Women's Service for assistance. Following an interview and supplying recommendations she was granted an interest free loan which enabled her to study engineering at the Victoria University of Manchester and in 1929 she registered as a first year student. After graduating with honours she undertook an MSc degree, researching internal combustion engines.
Her interest in engines also influenced her personal life where she modified and raced motorcycles, receiving a Brooklands Gold Star in the 1930s for lapping the track at over 100mph.
By the time of the start of the Second World War she had already been working at the Royal Aircraft Establishment (RAE) for three and a half years and at this point she was put in charge of research and development of carburettors. It was in this role that she made her most well known contribution to the war effort. During the Battle of Britain a serious issue had been discovered with the Rolls Royce Merlin engines in RAF fighter planes causing them to lose power whilst performing certain manoeuvres. Beatrice devised a solution in the form of a small disc with a hole in the middle that could be fitted to the carburettor. The 'RAE restrictor', as it was officially called limited the flow of fuel during these manoeuvres and prevented the loss of engine power during combat.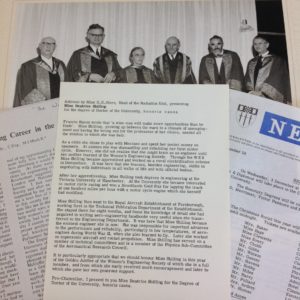 Beatrice notes in the article that at the end of the war the majority of posts in the Scientific Civil Service were only open to single women. Beatrice had married in 1938 and had been retained on a temporary basis. Married women in the service were frowned upon until 1948 when this bar was removed. In light of this I find it particularly interesting that Miss Shilling requested that the degree was conferred in her maiden name.
At her retirement in 1969 she held the post of Head of Engineering Research Division at the Royal Aircraft Establishment, Farnborough.
[Refs. PH/AE/007/004A/01 and UBL/P/P7/288/23, ©The University of Surrey]