The Archives & Special Collections recently hosted a visit from the Guildford Institute having been asked to give a talk about E. H. Shepard and his personal archive.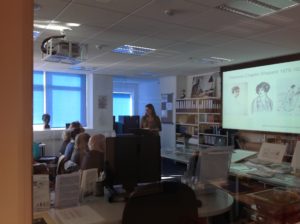 The E. H. Shepard Archive, one of the University's perhaps lesser-known treasures, comprises of the personal papers of Ernest Howard Shepard, one of the greatest black and white book illustrators of the 20th century. Donated to the University by Shepard himself in 1974, the collection is broad and rich in its content, and includes a vast array of material including personal and business correspondence, sketchbooks, manuscripts, ephemera, diaries, photographs and drawings, all of which are catalogued and available for researchers and visitors to look at and enjoy.
Seventeen people attended and were treated to an illustrated talk followed by the chance to see some of the highlights of the collection. These included:
Some examples of letters written by Shepard to his wife Florence during WW1, one of which showed his excitement upon hearing he was to receive the Military Cross.
His Royal Artillery forage cap from WW1
Shepard's appointment diary from 1918 showing Ernest Hemingway's name and address, the two having met during the war.
A map of Guildford and the local area drawn by Shepard to aid his Home Guard duties during WW2.
Original drawings from books both authored and illustrated by Shepard, including Betsy and Joe, Ben and Brock and his two memoirs Drawn from memory and Drawn from life.
Sketches and drawings from throughout his lifetime, from childhood to later years.
And of course, some of his original drawings of Winnie-the-Pooh.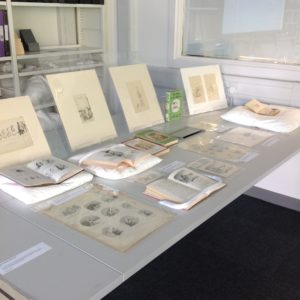 It is always a pleasure to share our collections with people outside of the University, through both personal outreach and social media outlets, and we look forward to hosting more visits like this over the coming months.
Are you a member of a local group who would like to come and hear about our Shepard Archive? Or indeed any of our collections? Get in contact with us at archives@surrey.ac.uk – we would love to hear from you!