The catalogue of the Geraldine Stephenson archive is complete and can be browsed and searched through our Archives and Special Collections catalogue here.
The archive spans from the late 19th century until 2008, and covers the life and career of Geraldine Stephenson (1925-2017), an eminent dancer, movement director and choreographer. Stephenson was trained by renowned movement theorist Rudolf Laban (1879-1958) at the Art of Movement Studio in both its Manchester and Surrey locations. After assisting Laban for five years, including teaching the British Drama League and at the Bradford Northern Theatre School, Stephenson established herself as an artist and creative in her own right. Both a pioneer of independent dance and producer of collaborative pageants, her career is marked by long working relationships, patience and perseverance choreographing non-professionals, and directing movement for prominent BBC period dramas. All of this, and more, can be explored and discovered in Stephenson's rich and varied archive.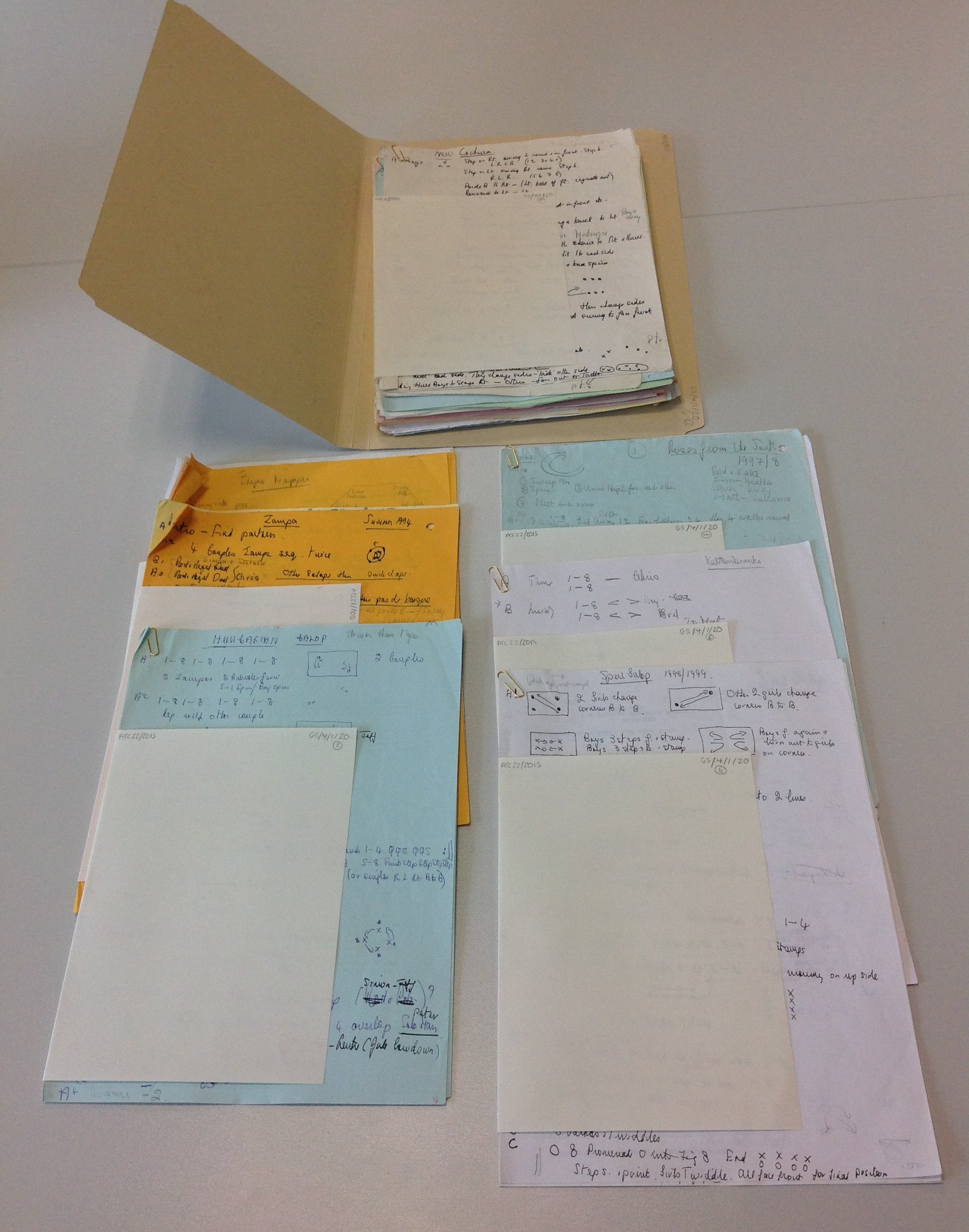 Stephenson's meticulous research into dance and movement for her choreography projects makes up the third series of the catalogue (archive reference GS/3) and her dedication to this part of her creative process is evident when surveying the now finished catalogue. What I find particularly interesting is the holistic approach to this research; amongst correspondence with libraries* regarding material related to specific dances and Stephenson's handwritten notes, there are also records of research into costume, social etiquette, motifs and socio-historic context. Furthermore, Stephenson's collection of exhibition catalogues shows the events she chose to engage with which contributed to her creative process. These items range from throughout her entire career up to 2002, demonstrating Stephenson's commitment to developing her craft and creating realistic scenes and performances whether it be for the stage or the silver screen. This series is part testament as to why Stephenson is referred to as 'one of Britain's authorities on historical choreography' [cited in GS/8/2/9].
The series of Geraldine Stephenson's scrapbooks [reference number GS/8/2] comprises retrospectively-arranged memoirs and reflections of Stephenson; her captions and comments are intermingled around both publicity and personal photographs, programmes, correspondence and press cuttings that have been inserted into the scrapbooks. Through Stephenson's collections of ephemeral material and her annotations you can get a sense of what she truly was proud of and how her career developed. There are 9 scrapbooks in total, spanning Stephenson's time entering local Hull competitions in the 1930s, to working as a choreographer for the BBC television adaptation of 'Fanny by Gaslight' in 1982.
Anyone is permitted to visit our Archives Research Room to consult the Geraldine Stephenson archive during our opening hours. To book an appointment or find out more, please email archives@surrey.ac.uk.
*As if we couldn't be any more enamoured with Geraldine Stephenson, she was also a library user!