Kelly Burchmore has recently joined the Archives & Special Collections team as Temporary Project Archivist to catalogue the Geraldine Stephenson Archive. This blog describes her progress so far…
Born in 1925, Geraldine Stephenson was a student protégé-turned-colleague of Rudolf Laban, and became an eminent choreographer in her own right. Her collection is currently being catalogued and has been arranged in a way that will best help future researchers to discover material of interest. Assessing the material in its original boxes, as well as describing and processing it has been a real delight, to the point where I have to remind myself to stop staring/reading, and that I have a job to do!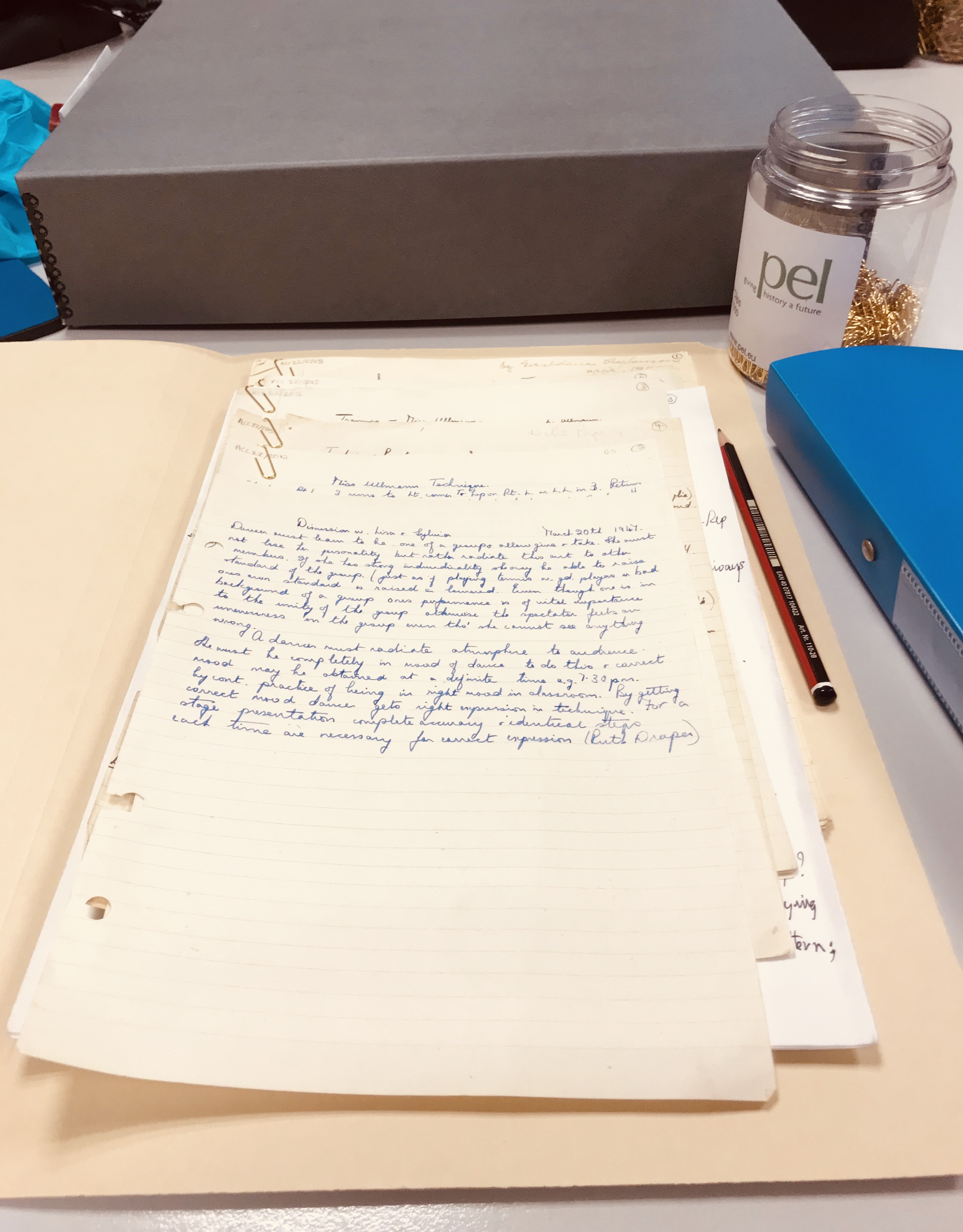 The collection includes Geraldine's hand written and typescript notes and essays from her early terms at the Art of Movement Studio when it was located at Oxford Road, Manchester. The first page, dated 20 March 1947, titled 'Discussion with Lisa [Ullman] and Sylvia [Bodmer]' reads in Geraldine's hand "Even though one is in the background of a group, ones performance is of vital importance to the unity of the group, otherwise the spectator feels an unevenness in the group even tho' she cannot see anything wrong". [Temporary refno MSS 8-9]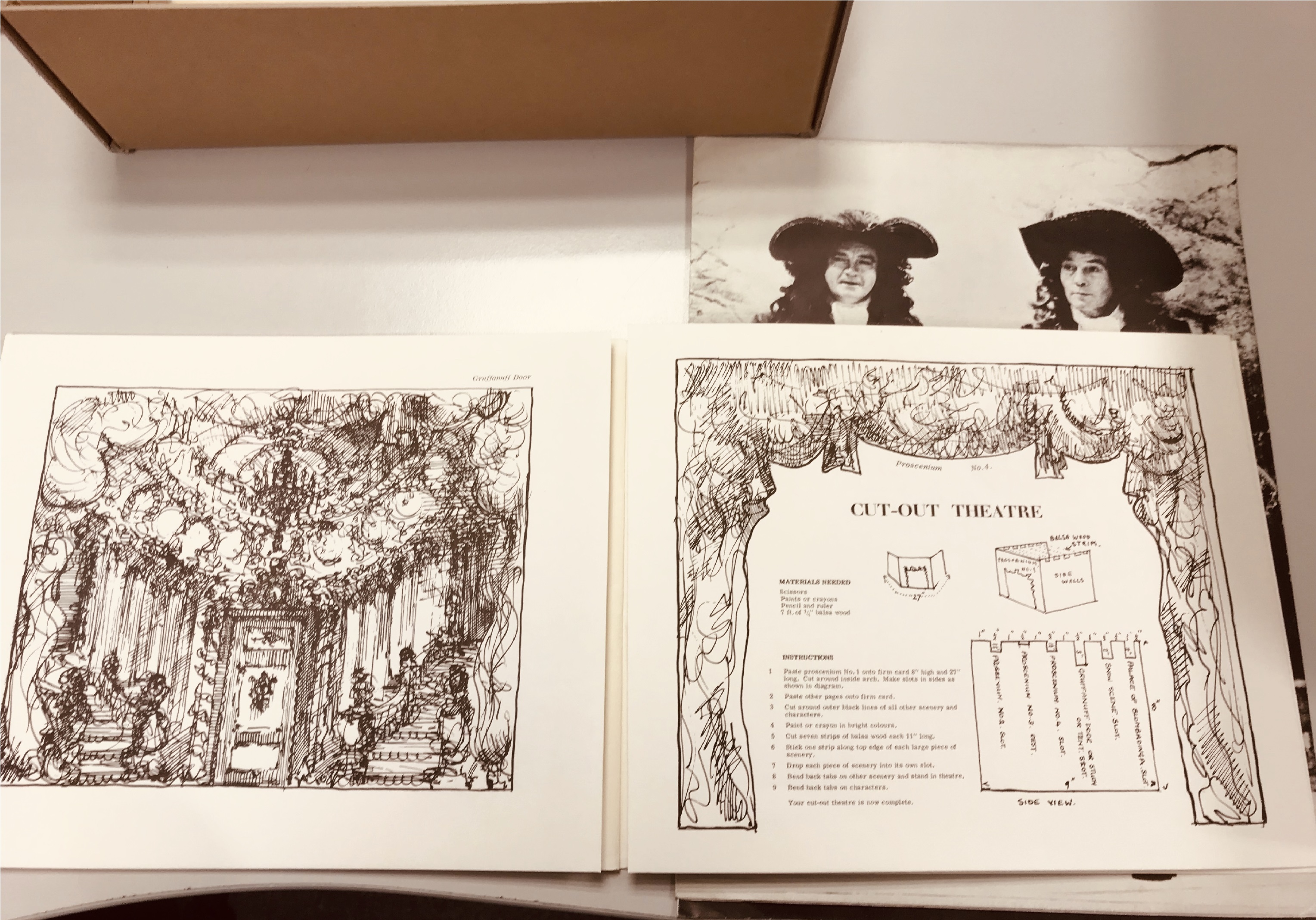 The inside of this beautiful programme, circa December 1964-January 1965, for an adaptation of William Makepeace Thackeray's The Rose and the Ring choreographed by Geraldine Stephenson includes instructions on how to make your own cut out theatre from the programme. This production was one of many creative collaborations between Stephenson and the musician and composer John Dalby which the archive documents. There would have been many children in the audience for this fantasy pantomime-esque performance who would have likely enjoyed taking the programme home and engaging with the activity. [Temporary refno Acc22/2015/34]
As well as providing accurate descriptions of material for future researchers, the process of cataloguing the collection has also enabled us to survey and identify any conservation needs. Sometimes metal fastenings such as staples or paperclips will need removing if they have begun to rust- and if these fastenings were used to indicate an original arrangement they are re-fastened with more conservation-friendly brass paperclips [see photograph 1] or kept together as a discrete item with acid free archival paper. In some situations, fragile material such as press cuttings of reviews of Geraldine's recitals, or photographs of location shoots will be re-housed and packaged into melinex (clear archival polyester, which does not impair viewing of the material). What does this mean to you as a potential researcher? For starters, it means you can handle the original material without risk of further damage. Also, identifying conservation needs now means that a plan of action can be implemented to keep them preserved for the long term, for both posterity and access.
Work continues with the catalogue for now. We are really looking forward to completing the processing of this collection, and will announce when it can be discovered and accessed through our online catalogue. In the meantime, if you'd like a little more background on Geraldine Stephenson whilst you wait for the catalogue, you can read our tribute to her here.
Please note – the material photographed in this blog will be assigned permanent reference numbers once the catalogue work is complete. The material will be searchable on our online catalogue via the temporary reference numbers given in the caption.