Silver service gives way to gold standard food thanks largely to 5-star management education
From the vantage point of 2021 the English attitude to food in the early and mid-20th century may seem strange – or even backward. But beware of judging harshly:
Only those over 85 years of age have any memories of the Depression of the 1930s and World War II
A person has to be over 70 to have recollections of the grey, rationed days of the late 1940s: 'One egg per person per week – perhaps' went the joke
Children invariably cleared their plates: as the old saying goes 'Hunger is the best sauce!'
Food diversity and innovative recipes were an impossible sophistication for most people in the late 1940s. It would take 3 decades of rising living standards to educate (or re-educate) the palettes of the vast majority of English people.
It is well-known that many children in Britain in the 1940s never saw a banana, thanks to the famous story of the author Evelyn Waugh failing to share a precious banana with his children. What is less well-known is the failure of the British potato crop in the late 1950s. With no global supply chain many children were given bread with their school meals for several weeks instead of the customary mash, roast potatoes or chips.
In culinary matters 'the past is, indeed, another country' and we would do well to recall the words of the great chef Eugène Herbodeau, who worked at the Carlton Hotel and the Ritz Hotel in London. In his introduction to the 1956 edition of Escoffier's 'A Guide to Modern Cookery' Herbodeau writes:
'Eating habits changed in the course of half a century… the restrictions imposed during the two Wars modified our way of life profoundly, the art of cooking flourishes in times when life is easy and fate is kind.'
Herbodeau also observed that 'the culinary arts… (depend) to a large extent on the psychological condition of the times'. In a post-covid world which must face-up to climate change, English food in the future will undoubtedly be different – to a greater or lesser extent – from that which we have experienced and enjoyed in the last 30 years.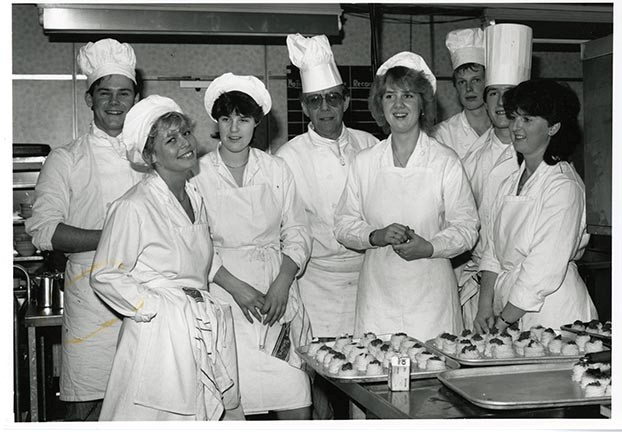 Enjoy the bounty – it may not last…
Bon Appétit! And thank you for visiting our blog during Heritage Open Days.