In January we welcomed our new Archivist Simon Mackley to the Archives & Special Collections Team. In this blog post, Simon introduces himself and looks back on his first month working here.
I am delighted to be starting as the new Archivist at the University of Surrey Archives, and I have really enjoyed my first month in the role. I am no stranger to working in a university archive; I began my archives career at the University of Oxford, working first as a Project Archives Assistant and then as a Graduate Trainee at the Bodleian Library. Most recently, I was Assistant Archivist at the Richard Burton Archives at Swansea University, where my work included cataloguing and promoting the collections of the "Swansea school" philosophers and helping to preserve the University's digital archive collections. Digital preservation – that is, how we care for and manage our digital archives over the long term, just as we care for paper records – is a particular interest of mine, and I'm looking forward to exploring how we can develop our digital collections over the coming months and years.
Since starting at Surrey, I've really enjoyed getting to learn more about our fantastic collections. Last week I got the chance to see first-hand some of the amazing sketches and illustrations of E.H. Shepard, as we welcomed a new deposit of materials for The Shepard Trust Collection to the University following conservation treatment by Surrey History Centre. This collection, which includes drafts and working copies of many of Shepard's iconic cartoons and illustrations for Punch, is an amazing resource for students of 20th century history, and it was a privilege to be able to work so closely with the material.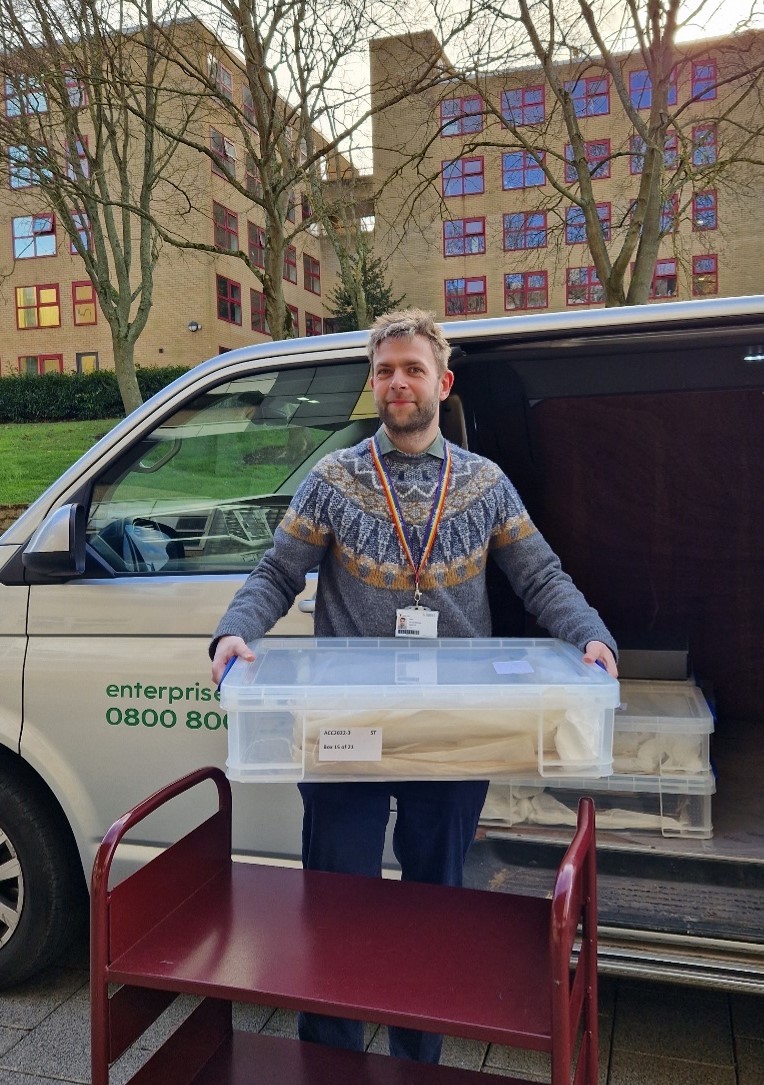 Naturally, much of the work in an archive takes place "behind the scenes", so I've also been busy getting to grips with our collection management processes: for example, learning about how we monitor the environmental conditions in our strongrooms to protect archive collections from pests and decay. I've also been familiarising myself with our collection management system Calm, and working to process new accessions into the University's institutional archive. Although these tasks are perhaps not the most glamorous parts of the job, they play an essential role in ensuring the long-term preservation and accessibility of our collections.
Of course, as well as being new to the Archives & Special Collections team I'm also new to the University of Surrey itself! It's been great therefore meeting colleagues from across Library & Learning Services and the University at large over the past few weeks, learning about how the work of the Archives supports the University's mission and the Surrey student experience. I particularly enjoyed the experience of sitting in on a teaching session with the Guildford School of Acting, watching students work with materials from the Rudolf Laban Archive to create short, improvised pieces engaging with Laban's Effort theory through movement.
Developing the University of Surrey's institutional archive is one of my key objectives for the future, so I'm looking forward to working with students, staff and alumni to ensure that the documentary heritage of our University is preserved and made accessible to all.