During May 2016, 4 leaders in the business, retail and finance community participated in a series of lectures given to our International Business Management students. Our guest lecturers shared their decades of experience from their respective industries and engaged students in lively Q&A sessions.
Suman Saha organiser and Programme Director (MSc International Business Management) commented:
'We enhanced and complemented the academic learning experience by aligning it with the real business world through this series of lectures.'  
'Students responded very positively and we plan to host the series again next year.'
As part of the Strategy Module taught in the MSc Programme each lecture offered something unique and valuable.
Our Guest Lecturers: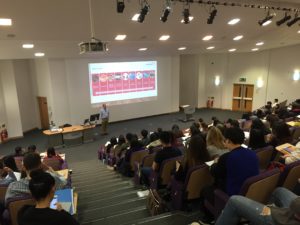 John advises civil society and governments around the world and as part of the Strategy module he shared his insight on governance and management of different organizations at board level.
He has held senior positions including national Education Director of Business in the Community and the Chief Executive for Career Academies UK and Young Enterprise.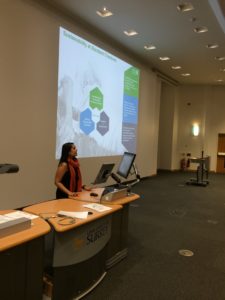 Payal shared some insights on what Standard Chartered do through their efforts towards sustainability and how this is embedded within its broader corporate strategy. While engaging students throughout the session, Payal also shared her reflections about making a successful career.
Payal is also an advisor to the Clinton Foundation and a speech writer to President Clinton and Hilary Clinton.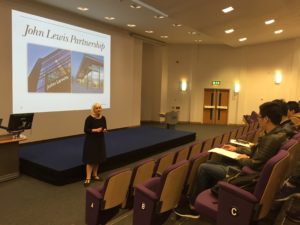 Jane Burgess focused on how partnerships work as an organizational structure at John Lewis and what makes a partnership a competing and successful business model. Her discussion also included application of workplace democracy in business and how the empowerment of the employees can be translated as the strength of the organization.
Jane who has over thirty years of experience with John Lewis, has recently joined the Advisory Board of Surrey Business School.
 Stephanos Anastasiadis shared his expertise and delivered a lecture on lobbying and its relevance for international business.
Stephanos has over 10 year's industry experience in the EU policy environment.