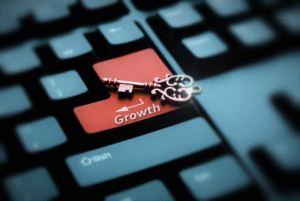 The Surrey Business School CoDE team's latest exploratory discussion was with a well-known French multinational bank and financial services company, to find out how CoDE's unique blend of 'on it' and 'in it' could add value to a financial institution with an eye for digital innovation in banking.
As Professor Alan Brown, co-director of CoDE, explained, 'There's a complex interplay between innovation in business, and innovation in technology. Equally, there's a balance between 'on it' and 'in it': we can't just study business, without an experience of business. Then, we must turn our experience into theory and strategy.'
Can Agile Innovation practices help? At CoDE, we're looking at Agile in the context of next-gen mobile technology, and asking, How will it change business? No one knows. So – we start to experiment.
CoDE's Ben Shenoy added, 'The problem isn't technology; it's uncertainty.' He described how business experimentation is the application of the tried-and-tested Scientific Method to the thorniest 'wicked problems' plaguing the business world today, and how Surrey Business School's Business insights Lab is designed for precisely this kind of collaborative, cross-sector work. 'Nowadays,' he pointed out, 'when a business proposes an idea or a project, we don't necessarily know where we want to end up.'
CoDE's cryptocurrencies pundit, Phil Godsiff, and IoT guru, Roger Maull, and digital platforms expert,Annabelle Gawer, fleshed out the digital picture for our guest, and a lively exchange ensued around such topics as:
Selling ideas and concepts in the banking industry, rather than products and services;
Regulation, governance, and complementary services around digital platforms;
Is Bitcoin the ultimate vertical integrator?
How will wearables, analytics, and connected health be regulated when the industry is spinning so fast?
In an age of Open Data, will the government wither away? If not, what will its role be?
We haven't solved all the Great Questions yet, but we are determined we'll be part of shaping the answers.