A great first day of the DEAL workshops. A very useful and provocative intro from David Plans, some Digital Economy "ducking and diving" from Alan Brown, then a really wonderful seminar and workshop from Annabelle Gawer for the rest of the day, exploring the changing nature of value and ecosystems due to Digital Platforms. A lively audience, and great feedback from the sessions.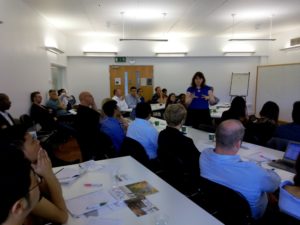 Annbelle Gawer
It is an exciting week for us: the first significant gathering of Surrey Business School's, Centre for the Digital Economy (CoDE) top 'minds on Digital' in one creative, intensive, and high-energy workshop running a full week in the Business insights Lab – all for the benefit of startups.
The sessions are co-sponsored with ENDuRE, the European Network of Design for Resilient Entrepreneurship. Chief of ENDuRE at Surrey and CoDE team member Dr David Plans kicked off the week with a blast of insight about the challenges, opportunities, and surreal experiences in store for European startups like his, BioBeats. 'Often,' he stressed, 'change is the most difficult part of any business. Even with the perfect business model, startups hit a wall they didn't anticipate, and die. Even though 'fail quickly' is an Agile principle, it's not great for the economy; however, by failing, we also find out what a good idea actually IS'.
The madness and contradictions inherent in getting a startup off the ground is why ENDuRE got started: to change how entrepreneurship is taught; and to facilitate interaction amongst European startups. The latter isn't easy: fundraising is different from country to country; cultural logistics vary widely; and Brexit is going to make it harder to have the conversations.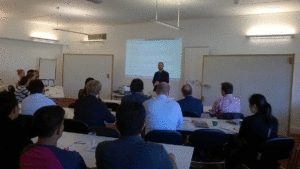 David Plans
Some more of David's advice to our audience from both the business community and the Surrey MBA:
'In terms of the iteration of funding and the speed of business, the UK is like a limping elephant compared with the US's cheetah. But, in turn, the UK makes Europe look slow.'
'Ideas are worthless. Execution is everything. Your team, therefore, is the most important asset you've got.'
'Be prepared for questions from potential investors like, Have you ever been divorced? Have you ever had a nervous breakdown? They are trying to find out how much of yourself you put into your business. They are looking for a "racehorse".'
'Once you've made a successful pitch and the funding starts, you'll probably end up having to fire yourself. That's how you know you've succeeded.'
David's conclusions: Resilience is the key — plus testing everything, iterating daily, and getting used to swimming in a sea of change.
Over to Professor Alan Brown, who asked – What does it really mean to be successful? He encouraged the spirit of Experimentation: together within the workshop – but also conducting business in a much more interactive way. 'It's possible,' says Alan, 'that everything we teach at business school is wrong – that rather than looking to theory on past business cases, we should be looking to ourselves, to "emerging knowledge" as we shape it, to luck, and to experimentation – perhaps this is the new formula for learning, with discovery blended with execution.'
Professor Annabelle Gawer spent the afternoon guiding the workshop through one of the most significant areas of the Digital Economy, using her ground-breaking research on Platforms. Platforms went from enigma to buzzword in a few short years – and Annabelle was there from the beginning. She explains, "Digital platforms constitute 70% of all unicorns (companies whose valuation exceeds $1 billion), and they affect our lives as citizens, employees, or entrepreneurs. This is why we must understand deeply how they create value, as well as what forces drive the distribution of the value created".
She continues, "Entrepreneurs must understand how to build platform businesses in our digital economy". Her passion is infectious, and the questions kept coming throughout her session.
Day 2 found us learning about Value and Digital: Professor Roger Maull and Dr Phil Godsiff ran the gamut from Open Data and the Internet of Things to a Blockchain exercise involving Lego, stickers, maths problems, and an imaginary marketplace, in an extremely lively and effective hands-on demonstration of how Blockchain really works.
It's Day 3, and we'll be hosting the IBM UK Emerging Technologies Team for a Design Studio session, and a day dedicated to 'design thinking.'
We're only halfway through the week, but we're exhilarated and inspired, and already certain that 'DEAL' will be an annual event.
Who knows what the Digital Revolution will look like in a year? We can only guess – so make sure to join us as we get to grips with the next wave of innovation.