Award Winning Case History – European Conference for Research Methodology (ECRM), 2016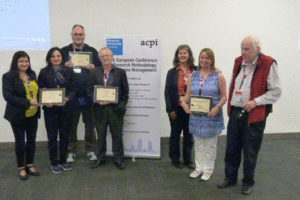 In collaboration with Dr. Smirti Kutaula (Kingston Business School) and Prof. Mark Saunders (Birmingham Business School), I received a runner's up prize for our paper titled: "Using Storytelling to Teach Sampling Techniques" at the European Conference for Research Methodology (ECRM), 2016 at Kingston Business School.
Our award winning case history is published in 2016 Innovation in Teaching of Research Methodology Excellence Awards An Anthology of Case Histories ISBN: 9781910810972. Over 40 submissions were entered, proposing innovative teaching techniques for research methods and a panel of judges chose 10 finalists.
Teaching research methods is a challenge for most teachers, yet a sound knowledge of research methods is the key to opening many doors, almost guaranteeing  good research outcomes. The task concept which prefaced our paper was to propose an innovative and academically sound means of teaching research methods.
We chose the medium of storytelling. The aim of telling stories was, traditionally, in the form of cautionary tales to help people understand real and complex situations, by creating 'mind pictures' which are much easier for us to remember. Because we employed storytelling techniques, the audience was helped to understand the theme and linkage between the ways storytelling can help students understand complex research method concepts – such as sampling – in more relatable and engaging ways. 
Our light-hearted storytelling style presentation was well received and gained positive feedback from the judges and audiences. The experience of being a story-teller to an adult audience was amazing, and one which I really enjoyed.
Teaching Fellow in Marketing and Strategy, Surrey Business School