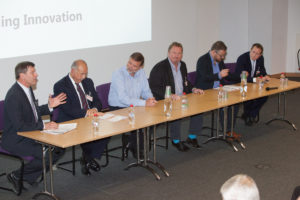 Moderator, Jim Sears, and panellists (above)
Innovation has never been as important for business as it is today with challenges including slow economic growth, technology advances, globalisation and, more recently, Brexit.  In turn, governments are increasing looking to small-and-medium size companies (SME's) to lead this charge for economic and job growth.
The biggest challenge to innovation, though, is funding according to the BIS.* How do companies finance growth?  What kind of finance should they consider?  What are the changes in the financing landscape over the past year and what may they be as we look to the future?
For these reasons, Access to Business Funding, an event organised by the University of Surrey in conjunction with Surrey Chamber of Commerce on 13 October, could not be more relevant and proved to be a big success with more than 80 attendees including SME's from around Surrey.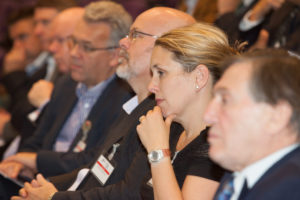 Keynote speaker, Terry Toms from CEO of R&D Tax Credits, highlighted opportunities for R&D tax credits for SME's while a panel of financial experts provided a lively discussion about the above questions.  The panel included Business Growth Fund, Crowdcube, FSE Group, Alternative Business Funding, UK Export Finance, Santander Bank and many more.
The event looked at a broader context for funding innovation from traditional sources such as debt and equity to other means such as tax credits, grants and pension-led borrowing.  We look forward to developing this event further next year as the financing needs of SME's evolve further.
*BIS, UK In novation Survey 2015;
Jim Sears