On Tuesday 18th October, the Centre for Sustainable Enterprise Management (CSEM) hosted their first Research Day for the 2016-2017 academic year. The event was attended by academics from CSEM, the wider Surrey Business School, the School of Hospitality and Tourism Management, the University of Bedfordshire and Royal Holloway.
Professor of Sustainability in Business, Graham Miller (Executive Dean of FASS) kicked off the morning sessions with an enthusiastic and supportive welcome to our sustainability audience. Joined in the afternoon by Professor Ansgar Richter (Dean of SBS) who launched the afternoon events, we were encouraged to consider value creation and appropriation of organisations in a sustainability context.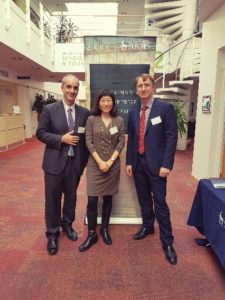 Professor Ansgar Richer with speakers Professor Pascual Berrone and Dr Yanfei Hu
The day included a keynote from Professor Pascual Berrone from IESE Business School on how local environmental non-profit organisations create social value by improving the environmental performance of the communities on which they operate and how the process of value creation is shaped by local institutional actors. We were also delighted that one of our newest CSEM members, Dr Yanfei Hu presented her research on sensebreaking and sensemaking in the case of animal rights with Professor Luis Diestre as discussant. A lunchtime session was held to showcase our 'Surrey Journals' in a Meet the Editor panel where Professor Graham Miller (Editor of the Journal of Sustainable Tourism), Professor Gavin Hilson (Editor of The Extractive Industries and Society) and Professor Alberto Aragon-Correa (Editor of Organization Environment) held a Forum for sustainability publication issues and advice.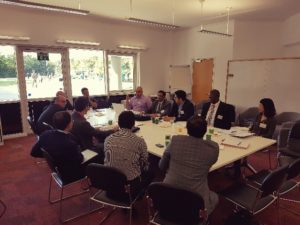 Afternoon round table discussions
"The presentations were wonderful and the sustainability debate was intellectually stimulating. It was an impressive scholarly gathering and very good networking opportunity. The presence of three Editors from renowned journals also enhanced the values of the programme. I did find this programme useful and will certainly like to join more events like this". " Abdul Ali, University of Bedfordshire
Many thanks to the organising team (Professor Alberto Aragon-Correa, Professor Juan Santalo, Professor Luis Diestre and Dr Rosanna Cole) for coordinating the event.
Don't miss our next research days on 30th March and 27th April 2017!