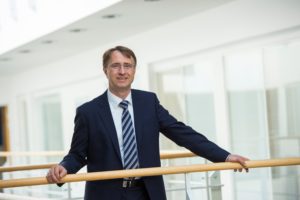 Beginning in October, Professor Ansgar Richter has started his post as Dean of Surrey Business School.
An organisation theorist by background, he has published widely on matters of strategy, organisation, and strategic human resources management.
Professor Richter has held positions at EBS Business School in Germany and University of Liverpool Management School, where he was Head of the Organisation and Management Group. He has taught widely at academic institutions in Germany, UK, USA, France, India, China and elsewhere, and has been a visiting scholar at the University of California at Berkeley, Stanford University, and INSEAD. He also gained experience as a management consultant with McKinsey & Company.
''I feel so privileged to have been invited to lead Surrey Business School in the next phase of its development. So far I have been inspired with confidence that we will succeed in our vision to be a leading interdisciplinary business school in the UK and beyond. 
In realising this vision, we will put particular emphasis on innovation and impact. Our research centres – e.g., the Centre for the Digital Economy and the newly formed Centre for Leadership and Decision-Making – are great examples of this strength.
Further to this, one of the things that attracted me to Surrey is its focus on the quality of the student experience. We aim to create a learning environment where you can thrive – in terms of your personal development, your intellectual skills, as well as your ability to put your learning into practice.''
More information on his appointment can be found on his profile.