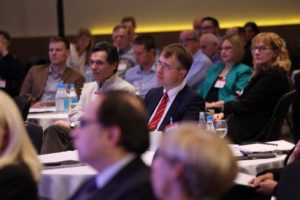 The annual conference of the Chartered Association of Business Schools (CABS) took place on November 14-15, 2016 in London. Professor Andy Adcroft, Professor Steve Wood and Surrey Business School (SBS) Dean, Professor Ansgar Richter represented SBS at this important gathering.
Two important topics dominated the programme and the conversations during the breaks. First, the internationalisation of business schools (and of the Higher Education sector in general), in particular following the Brexit decision in summer. Lord Karan Bilimoria, the Chairman of the Cobra Beer Partnership and Co-Chair, APPG for International Students, made a passionate plea to the UK government not turn its back on international students. Participants demanded greater clarity on issues such as immigration policy, student visas, and its relationships with its European partners.
The second important theme was the Teaching Excellence Framework (TEF). The TEF will draw on a range of existing indicators, including NSS scores, in order to classify HE institutions into three categories (bronze, silver, gold). Madeleine Atkins, CEO of HEFCE, explained that in the current year, the unit of analysis for this assessment is the overall institution (ie, the University), whereas in future years, it will be the subject area organisation (ie, the Business School).
Other sessions focused on issues as diverse as research excellence and impact, funding, faculty recruitment, accreditation strategies, professionalism in administration, and many others.