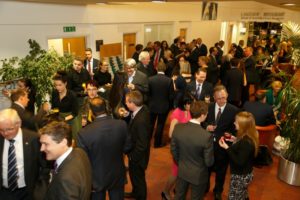 This week the Vice-Chancellor's Awards Dinner 2016 took place on campus, celebrating the excellence of individual staff members and recognising their outstanding contributions to the University.
I am very happy to congratulate James McQuilken, a PhD student at Surrey Business School (SBS) working with Professor Gavin Hilson, who won the Vice-Chancellor's Award in the Postgraduate Research category, for his research on mining in Africa. James has already produced a number of papers published or accepted for publication in peer-reviewed journals, and his work has great impact with policy makers.
Furthermore, Dr Ben Shenoy, Senior Research Fellow with Centre for the Digital Economy (CoDE) and Director of the Business Insights Lab, was among the Finalists for the Vice-Chancellor's "Award for Going the Extra Mile", in recognition of his exceptional efforts above and beyond his role and responsibilities.