Last night Surrey Business School and Surrey Chambers of Commerce joined together to celebrate International Women's Day (IWD), inviting a panel of inspirational female speakers on campus, to share their stories and answer questions from a packed audience.  
Among the speakers was Surrey Business School's Advisory Board member, Cath Bishop former Olympic rower and diplomat, sharing her experiences on equality and leadership.
Cath commented: "It was great to be involved in the International Women's Day event today which Surrey Business School and Surrey Chambers of Commerce put on.  We heard so many different tales of inspiration and being bold in a world where women are still fighting for equality in different ways. 
The motto for International Women's Day this year is #Be Bold for Change – and we heard so many different interpretations of what being bold can mean in a variety of contexts.  It's not just about equality for women alone, it's about equality more widely, and about setting the right sort of organisational cultures that allow everyone to thrive, rather than play to the strengths of just a few. 
So it's about challenging assumptions, thinking differently and speaking out with new ideas and new ways of thinking."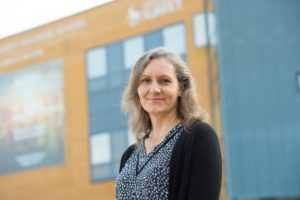 Cath also shared some advice on leading your own business: "When it comes to leadership in business, establish as much clarity as you can about what the purpose of your business is and your passion for it, develop strong networks of collaboration, and don't stop learning, embracing failure along the way as an essential part of learning – in short, be bold, be smart, make things happen!"
At Surrey Business School we are incredibly proud to champion real progress for women as leaders in business.
Find out more about the Surrey MBA and our specific Women in Business Scholarship. Scholarships can cover between 10 – 50% of the total tuition fee and will be awarded on a rolling basis.