A guest blog piece by Lily Rose King, Marketing Coordinator, Nottingham Trent University Alumni and friend of Surrey Business School.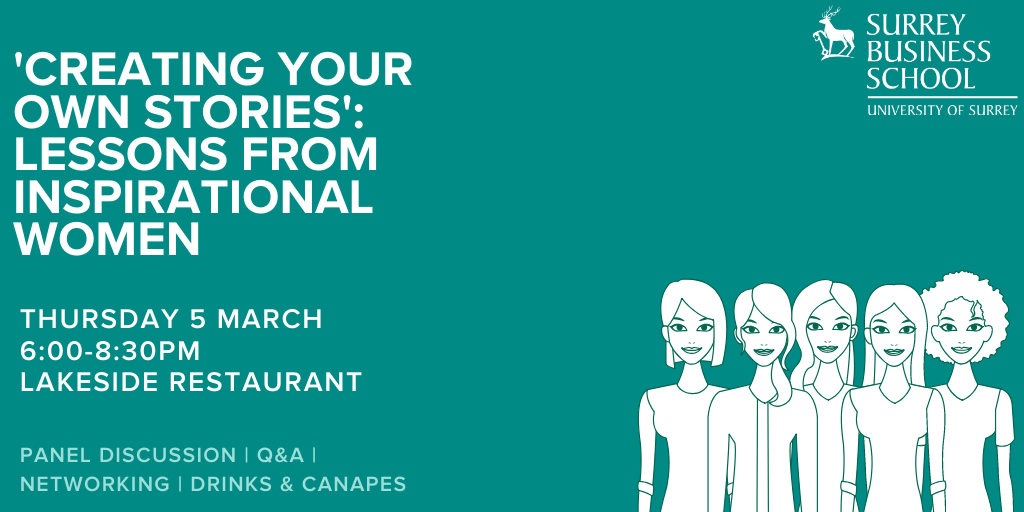 "Where do you see yourself in 10 years' time? Ever been asked that infuriating question? Surely if we could all answer it without hesitation then the world would be full of fortune-tellers and none of us would have to worry about pursuing another career.
Coming from someone who graduated from university nearly two years ago, it's safe to say that the vision you hold of your life is undoubtedly subject to change.
I used to think that one day everything would suddenly make sense: things would fall into place and my path would be set out in front of me, ready to be followed. I would wake up and be a fully-fledged adult, know the solution to all of life's problems and hold the key to success.
Spoiler alert: it doesn't happen like that (or at least I'm still waiting for it to).
Instead, we have to keep persevering, reassessing our choices and educating ourselves.
It still baffles me that at 16 we are given the freedom to make choices that will somewhat define our careers. At that age, we are considered too young to drink alcohol or drive, yet we have full autonomy over our futures.
Reflecting on it now, though, I guess there is really no 'right time'. Who is to say that if we waited another few years we would be any the wiser?
Of course, some people have never doubted their job goals and achieved them without a hitch. Others may have an idea of where they want to end up, but find getting there harder than they first thought.
I studied Broadcast Journalism at university and while I am currently in a marketing role that I enjoy, it's still not aligned to what I had originally imagined myself doing.
But what I have come to understand is that each journey is about creating your own story. By using the tools and talents available to us and nurturing our ability to adapt whatever life throws our way, we can navigate the world and figure it out as we go along, supporting each other as women.
Whether you can pinpoint precise objectives and the steps to get there, or you have no clue what you're going to do once you graduate; who better to gain insight from than five successful women who have each excelled in their field?
Surrey Business School's Creating your own story: lessons from inspirational women event on the 5th March will be the third annual celebration of incredible females and their achievements. The evening is held in honour of International Women's Day, and the theme this year is #EachforEqual. A reminder that we need to be championing inclusivity and ensuring all women, no matter their race, ethnicity, background, sexual orientation or any other factor, are able to gain equal opportunities to each other and men.
The event, which will be held in Lakeside Restaurant, features five women who are all from different walks of life and with contrasting experiences, but who will share the same stage to tell you their stories.
If your life ambition is to give a Ted Talk, you'll want to take notice of Sam Farrow. I first met Sam when covering the debut event back in 2018, and was bowled over by her enthusiasm and energy. In 2006 Sam founded her own graphic design and marketing agency, Farrow Creative, with a great deal of hard work and 20 years' experience in the graphic design industry helping to give her the confidence to start a business. The passion Sam exuberates for both her work and life is contagious and can be felt through her amazing Tedx talk about why she thinks collaboration kills creativity.
Perhaps you feel a little lost or confused about how best to channel your talents. Maybe you don't want to focus on one of your interests for fear of sacrificing others. Well, one woman proving it is possible to combine it all is Jan Sawkins. Jan's impressive resume ranges from being a Lay Member of the Council of the University of Surrey, to Chair of the Advisory Board of the Veterinary School and a member of the Advisory Board of the Guildford School of Acting. Two decades of Jan's life were spent mastering banking and finance in London and not only this, but her colourful career has also involved gaining a specialism in media, film, television, publishing and ancillary rights, as well as earning a qualification in life coaching.
Science is an industry where women are consistently breaking boundaries and changing perspectives on what was previously considered a very male-dominated arena. Professor Helen Griffiths has played a part in this reform, after earning a PhD from Birmingham University, with her spectacular contributions to modern science including her founding of the Aston Centre for Healthy Ageing in 2009 and election as a Fellow of the Royal Society of Biology in 2011. As of December 2016, Helen resides as Professor of Biomedical Sciences and Executive Dean of the Faculty of Health and Medical Sciences at the University of Surrey.
One woman I will definitely be taking notes from is Margaret Sherer, founder of Cittadina Marketing. After starting her career with Microsoft and Google, Margaret was inspired to start her own business in order to work with large companies aiming to streamline their agency relationships, aligning campaigns under a strategic, data-driven approach. Her wealth of experience including an MBA from Cranfield School of Management have led Margaret to be a guest lecturer at Cranfield, the University of Greenwich and University of Westminster. Not only this but Margaret uses her influence to help champion women to achieve their goals, and is due speak at the prestigious Women of Silicon Roundabout conference in June 2020.
The Global Senior Director of IT Delivery at Mars will also be joining the panel, whose employment history includes over 20 years spent climbing the ranks at BP. Fiona Macaulay's degree in geology helped her secure a graduate role within exploration at BP, before progressing into retail and leadership, with her final position at the business before leaving in 2009 being Head of Transformation, Enterprise Systems. Since then Fiona has held senior roles at a number of other distinguished companies, such as CIO at Thames Water and Head of IT delivery at Vodafone, and alongside working full-time has become a mother to two children. Fiona's passion for supporting female success in STEM careers is shown through her position on the British Computer Society (BCS) women's committee, where she is also a fellow. If working internationally appeals to you, Fiona's experiences living in the US and Singapore may be of great inspiration!
The opportunity to attend a free event with such a spectacular line-up of women is extremely rare, and with limited availability, you shouldn't have to think twice about signing up – and if that's not enough to tempt you, there will be the chance to network with drinks and canapes!
As a graduate now trying to make my way in the real world, one thing I can attest to is that you can never have too much experience, and I regret any time I have turned down a chance to fuel my ambitions and learn from others (especially when there were free drinks).
My only advice is that you prepare a couple of burning questions to ask these women in the Q&A session or when mingling with them after, as it could really help guide you in the direction you want to go.
The evening will be hosted by Donna Shanks and Selina Butler, starting at 6pm and finishing at 8:30 – so whether you want an early school night or are heading out for 'Thirsty Thursday' there's no excuse!
At the end of the day, who knows where you'll be in 10 years' time? Just make sure you have 10 incredible years to remember."