Introducing Laure O'Broin, Teaching Fellow, Department of Strategy and International Business, Surrey Business School. Laurie is a process-improvement engineer turned organisational psychologist and has research interests in leadership and the importance of interpersonal skills in cross-functional project teams.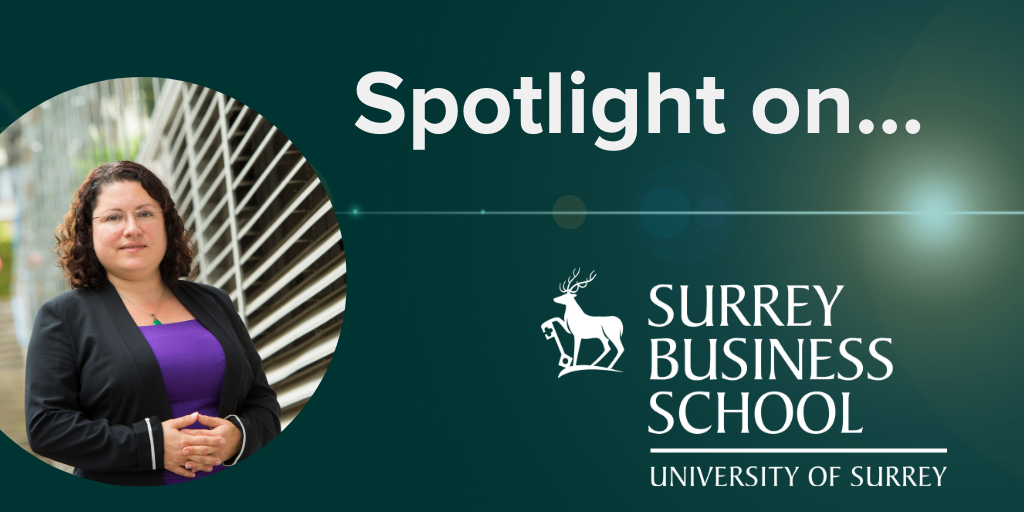 Please provide a short overview of your role at Surrey Business School.
"I teach on a variety of undergraduate modules throughout the year, this semester I led the Globalisation of Emerging Markets final year module, as well as delivered lectures on a second-year module Business/Organisational Psychology and delivered Excel to the current first-year students. In addition to this, I am the programme lead for the second year of the Business Management BSc.
Last semester I taught on the final year International Business Strategy module and the MSc Psychological Assessment in the Workplace module. I am also an Academic Integrity Officer within the business school which involves assessing cases of suspected academic misconduct both within SBS and across the wider university.
What were you doing before you joined the SBS team?
I originally did an engineering degree at Durham University and then joined a large multinational firm called Eaton on their Engineering and Management Graduate Scheme. As part of the role, I worked for the European division of their electrical business implementing lean engineering techniques. I moved away from engineering and into the product management part of the business and got involved in running business change projects, everything from stock reduction projects, to leading the introduction of a new customer relationship review process, running training courses, as well as being involved in the product management profit and strategic planning.
Over time I developed an interest in the people side of change management, I also enjoyed leading training courses, therefore when the opportunity arose, I returned to university to do a conversion course in psychology followed by an MSc in Work and Organisational Psychology at Aston University.
What's the best thing about working at SBS?
The best thing is being surrounded by supportive and collaborative colleagues!
Tell us a bit more about yourself, what do you enjoy doing in your spare time (hobbies, passion, something we might not know)?
I love the theatre, both plays and musicals, although I don't get to get involved on stage or behind-the-scenes as much as I used to.
I regularly go to whisky tasting events and currently have over 40 different bottles at home, and yes, before you ask, they do all taste different!
Favourite inspirational quote/piece of advice?
'The art of flying is to miss the ground when you fall' "
Find out more about the Department of Strategy and International Business.