With thanks to Professor Tazeeb Rajwani, Professor of International Business and Strategy and Head of the Department of Strategy and International Business at Surrey Business School.
Sustainable business practices have moved out of the footnotes in Corporate Social Responsibility reports and by-lines in shareholder statements to become not only key indicators of the long-term prospects of a business but also a new operational ethos. And yet the trade-off between corporate greening and corporate growth — that is, the arduous issue of obtaining growth while being really sustainable – is a significant challenge. For decades, it has been assumed that the more a corporation can expand, the more profitable it will become. Consider the phenomenal growth rates of Coca-Cola, Microsoft, Amazon or Alibaba to see how the ability to grow aggressively has been critical for a company to become a leader in its field.
Nonetheless, an increasing portion of society is now more concerned than ever about how sustainable the current status quo is and the impact of the relentless pursuit of environmentally degrading growth. The Sustainable Development Goals (SDGs) are, in part, a global manifestation of this apprehension and the need for companies to move towards more sustainable approaches. Consequently, research focused on Corporate Social Responsibility (CSR) attempts to reshape and transform business thinking through concepts such as 'corporate citizenship' and 'shared value' – a new form of capitalism where companies enhance their competitiveness while advancing communal socio-economic welfare.
Take for example the recently published study of Brunello Cucinelli, one of the world's leading luxury fashion brands. The study introduces the idea of 'gracious growth', a management approach that enables the green-growth trade-off and directs businesses in the pursuit of substantial rather than symbolic sustainability. It provides ideas that can help business leaders enhance their organizations' economic and environmental performance while also avoiding the legitimacy risks associated with greenwashing.
This 'gracious growth' approach, coined by the founder Brunello Cucinelli, positions the company as a custodian of creation – setting sustainable and fair objectives for growth and profit. It also means that the economic value produced for shareholders is in equilibrium with the value created for people and the planet. Instead of one-off large CSR initiatives driven by profit-orientated publicity, it concentrates on making value chain activities truly sustainable, allowing companies to focus on being profitable while also acting as true custodians of the environment.
With gracious growth, sustainability is treated as a product. But unlike traditional products whose values are reflected in price tags, this sustainability is valued by the extent of harmony it creates in earth's ecosystems. Consequently, gracious growth emphasizes modest expansions, generating profits but respecting humanity and protecting the natural world.
Clearly, the gracious growth process starts at the top in any business. Managers must not only have an interest in sustainability but also use this to drive their aspirations to make their organizations sustainable. Brunello Cucinelli, in founding the company, ensured that his interests, aspirations, and philosophy of sustainability are reflected in the core essence of the organization and shared by members of his senior management team.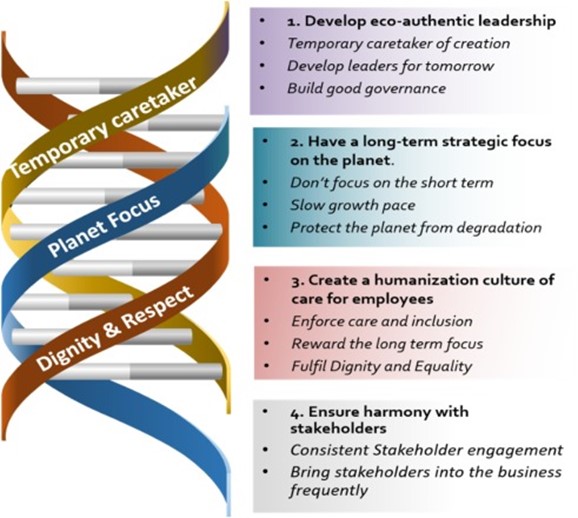 There is no doubt about the importance of sustainability when organizations are under pressure to usher in a new era of ecosystem-friendly operations. However, questions remain concerning the legitimacy of company sustainability measures when it comes to growth ambition. Gracious growth may offer the answer to these questions, by supporting environmental balance, innovating, reorganising, and humanising business. In creating the 'gracious growth' idea Brunello Cucinelli may provide a blueprint to move us away from sustainability as a fad and towards a future where true sustainability may be achieved.
For more information and to access the full paper, read "Gracious growth: How to manage the trade-off between corporate greening and corporate growth", Organizational Dynamics, https://doi.org/10.1016/j.orgdyn.2022.100895 by Tahiru Liedong, Paolo Taticchi, Tazeeb Rajwani, Niccolò Pisani (2022)