Our differences are what make us unique, and therefore should be celebrated. However, there still remains a glaring gender disparity in contemporary society. International Women's Day (IWD) is held on the 8th of March annually to acknowledge the achievements of women and serves as a call to action for equality, diversity, and inclusivity.  
For the past four years, the University of Surrey Business School has held an event in honour of IWD – and this one will be no exception. You are invited to join an exciting line-up of five influential women as they share their stories, with hopes to raise awareness of the campaign to #BreakTheBias and create a gender-equal world. Featuring a wide range of talents, qualifications, and past experiences here is just a taste of what to expect from the panel…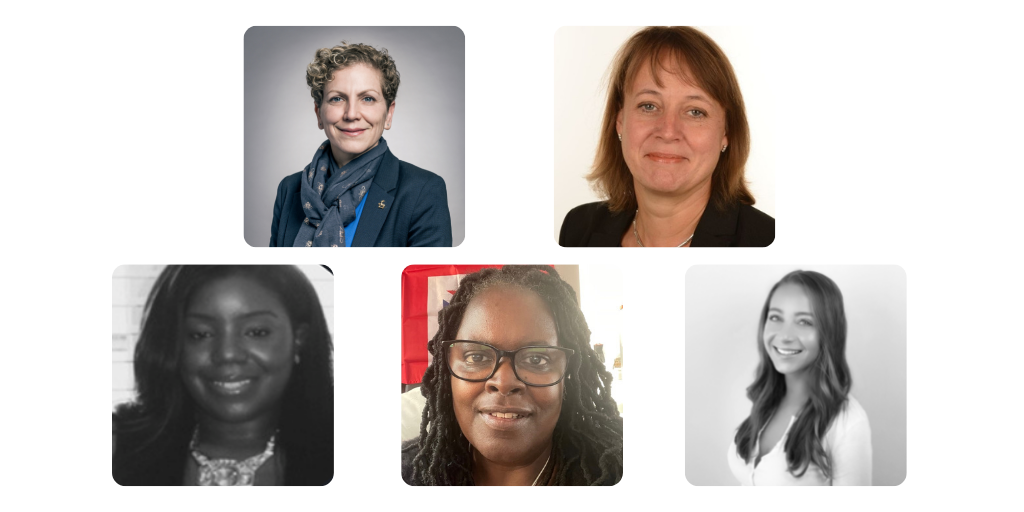 Martine Carter
Martine Carter is a graduate in Biological Sciences from Manchester University. With a background including previous university roles at Bristol and Southampton, Martine joined the department of Strategic Planning at the University of Surrey in 2011. By 2020, Martine had been appointed as the Vice President for Strategy, Planning and Performance.
Her position on the Executive Board gives her the responsibility of ensuring the University has a clear and achievable strategy, as well as tracking progress against strategic goals. Not only this, but Martine is also in charge of the planning process that helps optimise resource allocation across the university's activities. It may sound obvious, but without students, there would be no university, so Martine ensures that their best interests are upheld by bridging this gap in her position as the Students' Union University Trustee.   
Louise Stead
After qualifying as a nurse in 1988, Louise Stead launched into a varied career across a number of London teaching hospitals. Her experience lies in cardiology, cardiovascular surgery, hepatobiliary and pancreatic medicine and surgery, haematology, and coronary care. Outside of nursing, Louise's impressive resume extends to a Master of Science (MSc) in Professional Practice (Leadership and Management).
Louise has been a member of Royal Surrey NHS Foundation Trust since November 2011 and in 2018 was appointed as Chief Executive, playing a pivotal role in its leadership and successes, including the recent Care Quality Commission (CQC) rating.
Bola Akinfolarin
Bola Akinfolarin is a highly qualified, results-driven Senior Commissioning Manager. Her fourteen years of experience in strategic planning and commissioning includes numerous high-profile local authority projects with proven successful results. With a Master of Business Administration (MBA) and LLB Law (Hons) degree under her belt, some of Bola's key strengths are the ability to think analytically and outside the box; superb understanding of strategy; service design; change, programme, and budget management; and commissioning. Bola's passion for supporting women to thrive professionally led her to found 'Inspire Her' – Coaching and Mentoring, which is currently in development to aid women in navigating their careers.
In addition to this, she has contributed to the 'Refine U' programme, which runs workshops targeted at young female professionals exploring topics such as career development, personal development, confidence, relationships, and more.
Patricia Gibson MBE
When asked in school what she wanted to be when she grew up, Patricia Gibson knew she wanted to become a nurse. She went on to fulfil that dream by becoming an intensive care nurse, training in Orpington, Kent, and qualifying in 1978.
After around a year of working on a male surgical ward, which she loved, Patricia felt like a change was needed and took the plunge to join the army. Her military career saw her travel to Northern Ireland, Kosovo, Bosnia, Iraq, Afghanistan, and Sierra Leone, starting as a private soldier and working up to Sergeant Major, eventually retiring as a Lieutenant Colonel. Before retiring in January 2013 and joining the reserves, Patricia was able to end her time serving as the Clinical Nurse Specialist for the Intensive Care Army through her hard work and enthusiasm for the cause. Just before COVID-19 hit, she finished her stint in the reserves working at the Royal Military Academy in Sandhurst – although she returned to intensive care to help out during the pandemic. At 41, Patricia's latest adventure is working as an Arbonne Independent Consultant.   
Emily Gosen
University of Surrey Business School alumni Emily Gosen has achieved a stellar amount since graduating in 2016. Entering the PR industry full-time, Emily kickstarted her career as an account manager at Cake, a renowned sports and entertainment agency, building up a spectacular portfolio of renowned clients, such as PUMA, Virgin Atlantic, Gordon's Gin and STUDIOCANAL. Following a whirlwind five years, Emily decided to follow her calling over on the creative side of PR. This was no easy feat, but it paid off as she quickly climbed the ranks to become a Senior Creative at award-winning communications agency, Ketchum London, which she joined in 2020. She now spends her time producing standout, culture-first campaigns for clients like Samsung, P&G, Adobe, and the Mayor of London. 
Emily uses her experience within the industry to pay it forward through her association with the Women in PR network: an organisation founded to nurture and inspire the next generation of female leaders, and her commitment to an industry mentoring program for aspiring fellow creatives. In her spare time, Emily is a dedicated charity volunteer for both the Rainbow Trust and Gaddesden Place Riding for the Disabled.   
Whether you are considering venturing into one of these occupations or have something completely contrasting in mind, this event will equip you with key advice and understanding, through real-life examples, to motivate your next move and help you shape your future.
By pursuing your own strengths and uniqueness, and commemorating those of other women, you can play an important part in the fight to #BreakTheBias and close the gender gap.
Start by booking your free ticket for Creating your own Stories: Lessons from Inspirational Women here, which will take place on Wednesday 9th March 2022, at Lakeside Restaurant from 6 PM.