Full-Time MBA student Sherifa Amreen shares insight into relocating from Bangladesh to the UK to undertake an MBA at Surrey Business School.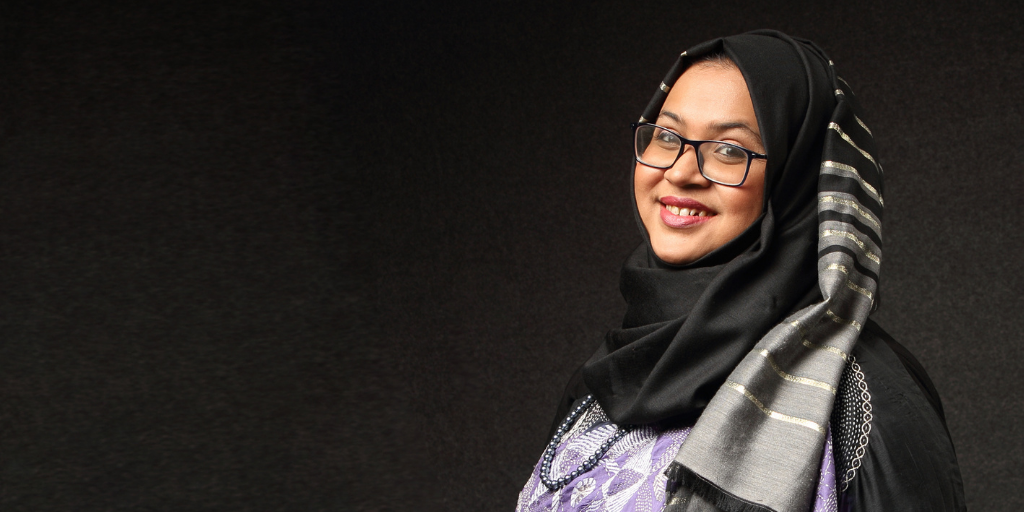 "Deciding on taking a sabbatical from a progressing career was a tough call. But as I'm approaching my mid-thirties, I had to push myself outside of my comfort zone and see how things work in another part of the world.
It's for an MBA!
I always knew I wanted to do an MBA after I had gathered enough qualifying experience. After graduating from business school, I worked in Bangladesh as a Brand Manager for Reckitt and then served the largest non-banking financial company IDLC Finance Limited as their Brand Head.
Even though I had an early plan to do an MBA, for me the funding aspect was always an issue. MBAs can be dauntingly expensive, alongside the relocation and maintenance cost of being an international student. MBA scholarships are often very scarce and subject to specific conditions. While I was researching with very little hope, my sister-in-law sent me a link to the Women in Leadership Scholarship at Surrey. I reflected on my personal statement and during the interview shared how my career has had an impact on women empowerment over the last ten years. I focused on how I have managed to retain resources post-maternity leave, worked with women entrepreneurs by giving them a platform to leverage their businesses and access to finance, and built campaigns to support young women in education. The offer came with the scholarship, and I couldn't resist the opportunity!
Bangladesh to Britain: In times of COVID
When I planned to come to England, Bangladesh was in the Red List. Meaning, I had to pay for 10 days of hotel quarantine for myself, my husband, and my daughter. The process was stressful and came with financial burden, however on a brighter note, the 10 days were precious, we were able to spend some quality time together as a family. Surrey Business School were very supportive during the whole process. As we were relocating as a family I was worried about my husband's career and hoped he would find the right job during the pandemic. Luckily, my husband who has been my rock throughout the years found a similar position to his role at home. Last but not the least, my mini-me, my 9-year-old daughter had to go to school in a foreign land. The thought of it was very intimidating, but as I reflect now after just three months my daughter has settled in and even been elected as class deputy commissioner. If settling in had a picture, I simply couldn't ask for more. The UK has embraced us with a big heart!
So, what was my mantra for sailing on new waters? I will never forget how overwhelming the entire experience was. However, an old habit has been my strong navigator, and that is planning and prioritising! I broke my task list down, into daily, weekly, and monthly priorities. I could write an entire blog to reflect on this part itself!
The Surrey MBA Experience
The Surrey MBA is intense, but not intimidating. I'm part of a small cohort, and everyone comes from different professional and international backgrounds. As the course requires some professional experience to be eligible, that brings with it a lot of knowledge in the classroom, which is amazing. I am also really enjoying the fact that the academics and module leaders have relevant past and ongoing experience with real-life businesses. Like a real-life corporate job, we get ample opportunities to collaborate with one another. I believe it's the maturity of the class that eases out conflicting opinions to constructive positive outcomes. The essence of MBA teaching is to gain strength from subject matter experts, whilst being able to make your own decisions. When it comes to learning, Surrey Business School will ensure that you are learning from the best. The guest lecturers are also very honest about the challenges in the market, helping to prepare you as best as they can. Overall, the MBA is providing me with very modern and relevant experience, all of which will help me to become a successful business leader.
If you are planning to enhance your skills for a modern business environment, I recommend that you find out more about the Surrey MBA."