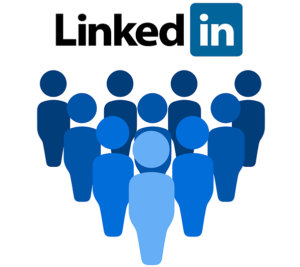 It is estimated that 80% of people find jobs through people they know. Engaging with social media as part of your job search is a vital way to build your own network of useful people who can give you tips and ideas for breaking into the sector that interests you. These contacts may even notify you about actual job vacancies. The most effective tool to use for professional networking is LinkedIn. Jeanette Holt from the Employability and Careers Centre tells you more…
What is LinkedIn?
LinkedIn is the most popular professional networking website in the world with more than 430 million users in over 200 countries, including 40 million students and graduates. It is now part of the job seeking process so don't miss out!  When you apply for a job, many graduate recruiters will check out your online presence, so having a good LinkedIn profile is a positive way of managing your digital footprint.
Top tips for creating a LinkedIn profile
To make a start, create a profile, which is like an online CV, which you can easily update. There is a feature to upload your CV as a word document, but you will probably want to make some adjustments to emphasise the key messages you want to convey to employers.
Upload a professional looking photo – think about what image you want to convey to potential recruiters. A good LinkedIn photo is one where you are alone and appropriately dressed. Make it relevant and suitable for the career you want to follow. This is a professional network after all, but you are still allowed to smile!
Choose a truthful and concise headline. This should include what you are doing now, but also what you are aspiring to do in the future, such as 'Computer Science student and aspiring Game Designer'.
Write a brief summary to include:
What you do

Who you do it for
What results you deliver
What you are seeking to do next

Add links to podcasts, blog posts, slides, videos and other examples of your work.
Complete your Employment and Education sections
Add skills that define you. You can get your skills endorsed by others and endorse others' skills in return.
Be careful and remember that everything you write will be in the public domain, so be truthful, accurate and professional.
How to make the most of LinkedIn opportunities
Make connections:
Now you are set up, you can start by linking with people who you already know. Once you have made a connection, you can view their contacts via their profile page. There are also LinkedIn groups of people with similar interests, so you can join groups that are most relevant to your career interests. You can use the search box to find individuals, employers and groups to connect with.
The LinkedIn Alumni tool www.linkedin.com/edu/alumni is a useful tool to research what graduates with your degree are now doing and to find Surrey Alumni who are working in organisations and jobs that interest you.  You can send individuals and groups a LinkedIn request and if they accept, you can start a conversation with them.  Why not use LinkedIn to research companies and join discussion forums to find out about the key issues facing the sector which interests you?
LinkedIn enables you to increase your network much more quickly than by meeting people face-to-face, but don't forget the personal touch. Remember social networking is no substitute for the real thing, so still take advantage of opportunities to meet people in person whenever you can. LinkedIn is also a great way to keep up with people you have met during a placement or at a conference and to keep those useful relationships going. You never know when these people will become helpful to you again in your professional development, or when you may be able assist them.
Seek out jobs/placements:
Remember that actual job vacancies are increasingly advertised on LinkedIn – see www.linkedin.com/studentjobs. Many graduates are now attributing their job-hunting success to use of LinkedIn. Why not download the LinkedIn jobs app on your mobile and apply for jobs with just one click using your LinkedIn profile.
Finally, don't hassle people via LinkedIn. If people don't reply to your requests, it is best to just accept their decision graciously. This approach to job hunting has worked for many – there is every reason to believe it will work for you too. Best of luck!
This blog post has been written by Jeanette Holt, a Careers Adviser at the University of Surrey since 2001. Jeanette works specifically with students from courses within the Faculty of Arts & Social Sciences.
Further Resources
Using LinkedIn to build your personal brand – with Capgemini. Skills session at the University of Surrey on Thursday 16th Feb. Register here.
LinkedIn Café – The Employability and Careers Centre is running some bite-size workshops to help students get started with LinkedIn. Email: p.mehmet@surrey.ac.uk for more information and to book a place.
Introduction to LinkedIn Leaflet
LinkedIn – The Ultimate Cheat Sheet
LinkedIn Learning Centre: help.linkedin.com/app/home
Students' information students.linkedin.com/uk
Job portal for students and new graduates: www.linkedin.com/studentjobs