With the University of Surrey's Summer Recruitment Fair only 7 days away, we share our 5 top tips below on how to prepare and get the most out of this event. On Wednesday 10th May, we will welcome over 60 exhibitors to campus, from large graduate recruiters such as BAE Systems, EY and Capgemini, to smaller organisations which are actively looking to recruit Surrey students with Summer / Autumn start dates. Plus, this year for the first time, we will have a separate part time work element to the Fair to support students looking for paid summer work opportunities.
Even if you're still uncertain about the direction in which you want to go, it's still a great opportunity to talk to the company representatives who may have been successful graduates themselves and can give you advice for how to navigate your own career path. It's also a great opportunity to network and broaden your career and get a feel of what the job market is like at the moment, whatever your degree and year of study!
So how can you best prepare for the Summer Fair?
1) Check out the exhibitors attending the Fair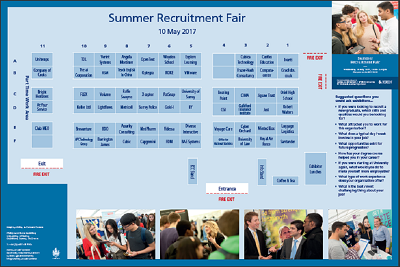 Doing your research is the trick to being more confident when approaching recruiters at Careers Fairs. Look at the list of exhibitors attending the Fair beforehand (here's a link to the Summer Fair Guide 2017!).
Download the Summer Fair Guide 2017 here!
Even if your preferred employer(s) are not present, the Fair will allow you to practice talking to graduate recruiters to help to build your confidence, expand your network of useful contacts for future reference, learn industry information about your chosen sector, as well as gather information about companies, which can be invaluable during their recruitment process.
2) Research the organisations and roles you're interested in applying to before the Fair
The Fair only lasts a few hours, so it's important to prioritise those companies you want to speak to and plan to visit them first. You can only get the most out of the opportunity to speak to recruiters from that organisation if you're clear about what the organisation does and what jobs they are recruiting for.
Not all organisations attending the Summer Fair will be large graduate recruiters; if you're considering working for an SME, the Summer Recruitment Fair is the perfect place to discover upcoming job vacancies with a Summer/Autumn start date. Don't discount an organisation because you haven't heard of them before – take the time to look on their website and find out what business they are in. You might just discover they are the most innovative in their industry and are offering your dream job! Check out our recent blog post about the advantages of working for an SME here.
3) Prepare your killer questions!
It's so important to prepare some questions you'd like to ask different companies that you're interested in. It makes you appear more prepared, more professional and you will stand out from others that haven't put in the same time and effort. Avoid asking questions like 'What does your company do?'- you should already know this. Here's some questions to get you started:
What is the company culture? This question is great as it will give you real insight into what the company values from its employees.
Why did you choose this company?
Are continuing education and professional development important to the organisation?
How much guidance would I get in planning my career?
What would be a typical progression for a graduate?
What do you enjoy most about working here?
What would the day-to-day responsibilities be?
What is the company's management style?
What kind of work could I expect in my first year?
What's your advice for the application process? Megan Watkins, Analytics Consultant on the IBM graduate scheme advises to take the opportunity to ask recruiters about the application process to get real insight from placement students and graduates already at that company.
4) Make a great first impression
You only have a few minutes to make a great first impression on a recruiter. It might seem obvious, but remember that you are in a professional setting, so match your appearance and behaviour accordingly.
Whilst you're not expected to wear your interview suit to the Fair, it's still a good idea not to be too scruffy. A shirt and smart trousers is fine, or a dress for ladies.
5) Bring your energy and enthusiasm
Recruitment Fairs can seem a bit daunting, but with thorough preparation, asking thoughtful questions and listening to the recruiter's response, you are well on your way to demonstrating enthusiasm and engagement. Smile and enjoy and we look forward to meeting you at the Fair!
What do the graduate recruiters say?
Do your research! – EY
In the video below, Nicola Morris, a University of Surrey placement student with EY says it's really important to research all of the graduate opportunities available to you within the business so that you're clear which area you want to go into. This will give you confidence in any later interviews or application centres when matching your skills and experience to the job role and convincing a recruiter why you are the right fit.
Studying chemistry and want to work in tech consulting? No problem! – IBM
In the video below, Megan Watkins, Analytics Consultant on the IBM graduate scheme answers how students from diverse degree programmes can really sell themselves to graduate recruiters.
Register your space now!
What? Summer Recruitment Fair
When? Wednesday 10th May, 11am-2:30pm
Where? Marquee on PATS field
Register: eventbrite.co.uk/e/summer-recruitment-fair-tickets-31259523075