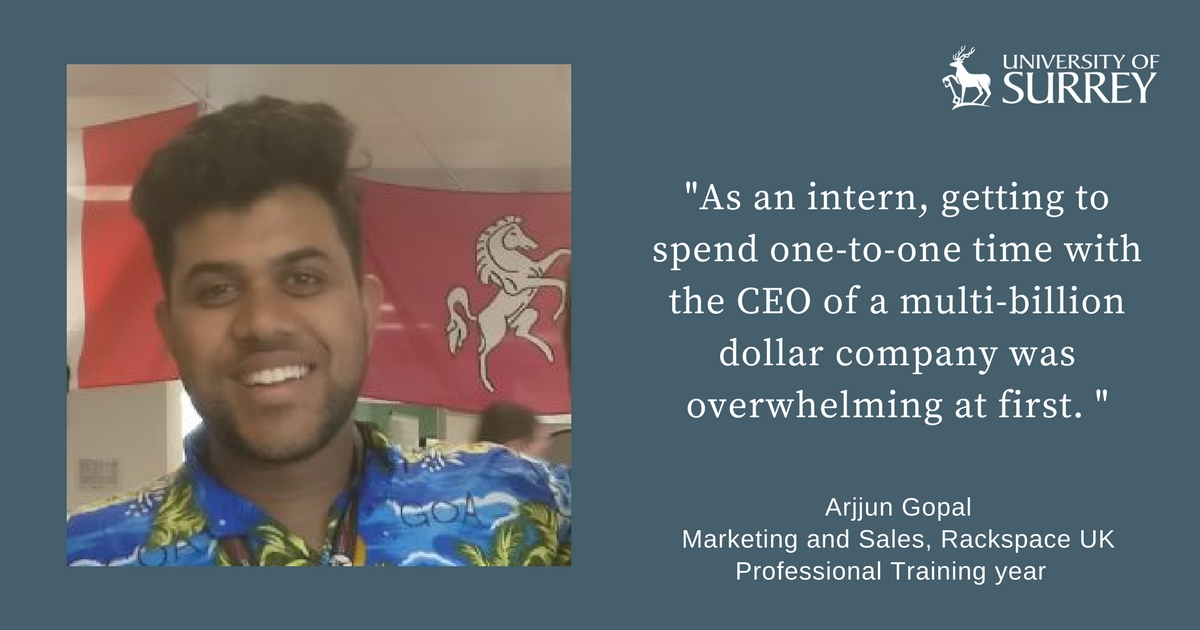 We recently caught up with Economics student Arjjun Gopal who reflected on his time working at Rackspace UK.
"Time flies when you are having fun": This was definitely true for my twelve month Marketing and Online Sales placement at Rackspace UK as I feel like it passed in the blink of an eye. To give some background to those that don't know about the company, Rackspace is a managed hosting provider with focus on dedicated and managed cloud hosting. They partner with the biggest and best tech companies in the industry – such as Google, Amazon and Microsoft – to provide their services with a Rackspace support wrapper around it. Working towards being the best service provider in the world, the customers are at the core of every company decisions. All the 'Rackers' (term for Rackspace employees) embody this mission and put the customers' best interest first in all they do.

How did you find out about your placement opportunity?
I found this placement through a friend who used to work at Rackspace. He used to talk about his work place and the passion he had for his job was contagious. Naturally when he mentioned placements at Rackspace, I was very keen to find out more. It is always good keep an ear out for other opportunities because you never know what could be around.
What attracted you to the role?
Studying Economics, there was a broad range of industries that were open to me. I was keen to get a taste for something that I hadn't yet explored in my degree. Marketing is essential for every company and sales gives you a huge amount of transferrable skills that will be useful for life. A combination of these factors with the culture at Rackspace made this role very appealing to me. After my first visit to Rackspace HQ and meeting some of the employees, I got the feeling that this company would suit my personality and I would be able to develop in this environment.
What has been the highlight of the experience?
There were many highs and lows during the placement year. With hindsight, I can see I have learnt valuable lessons from each of these highs and lows and these have helped me grow more as a person. The absolute highlight of the experience for me was working with a previous CEO, on a project designed to increase employee engagement. As an intern, getting to spend one-to-one time with the CEO of a multi-billion dollar company was overwhelming at first. There was a lot of pressure to make sure his time was utilised well and that we achieved all the objectives we wanted to. On top of all that, it was a privilege to understand how his mind works. I also had the pleasure of winning Intern of the Year at Rackspace. Seeing colleagues appreciating my hard work at the company was a very proud moment.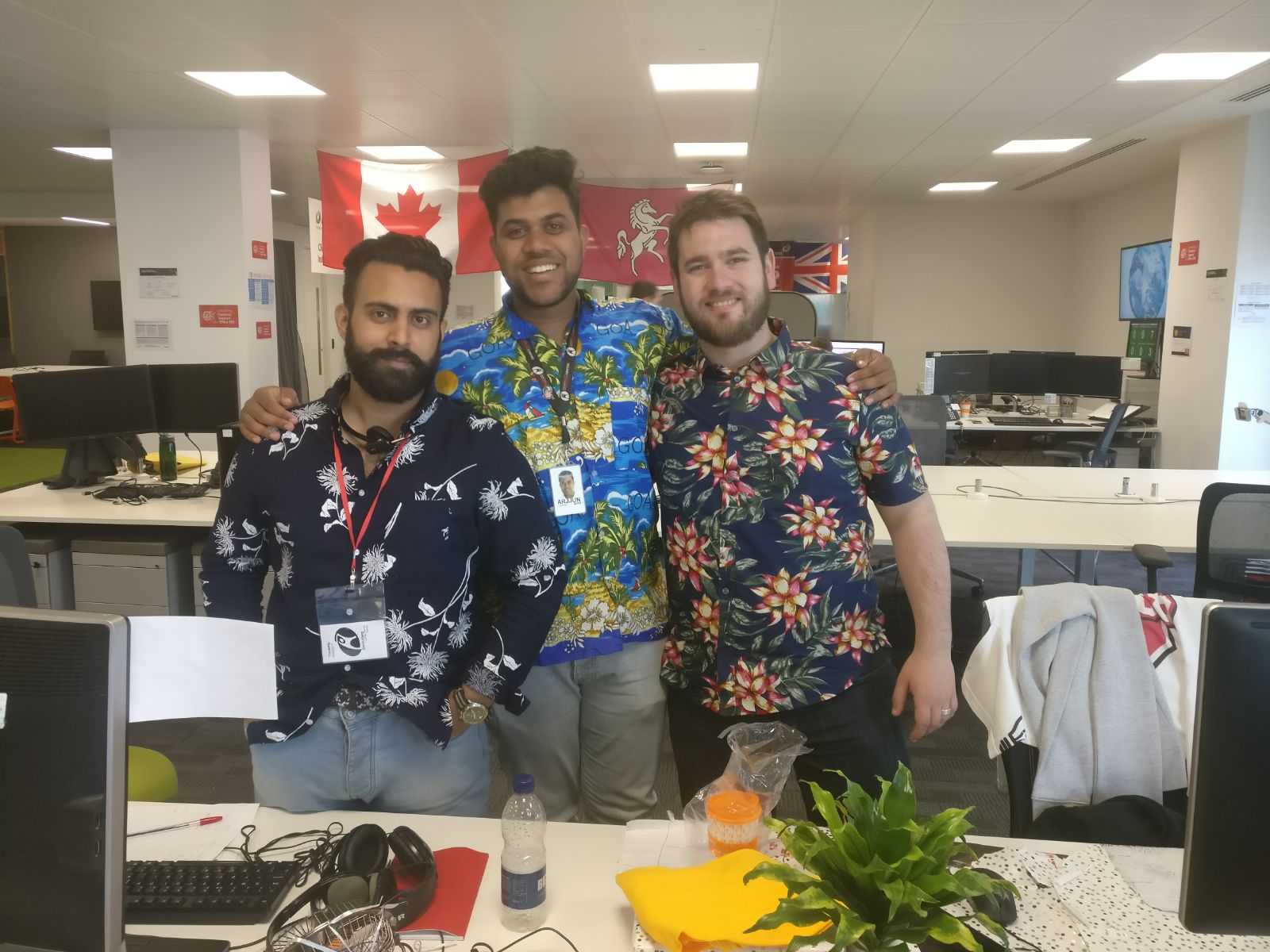 How do you feel your placement has prepared you for the world of work? How has your placement helped you in making decisions about your career choices after university?
I have learnt a huge amount of soft skills which I can apply to my next workplace. Small things like, understanding office etiquette and learning how to write emails effectively, are a huge addition to my skillset which will be useful when I start my next role. Working a 40 hour week was a slight shock from the student life at University, however, having done it for the last twelve months, I feel it has helped me prepare for the working world as well as my final year at University. Learning from different managers and senior management team about their careers and the paths they have chosen has given me some clarity of what to do in the future as well. I had a very basic knowledge of the tech industry going into my placement. However, 12 months down the line, I am excited about the role tech will play in the development of our future. It will make notions we think are impossible, possible. I have definitely developed an interest in technology and opened up my horizons to a career where I can combine this passion for technology while utilizing my commercial skills from my degree.
What advice would you give to students that are currently applying for their Professional Training Placements?
Take time filling in applications. Do not spam different companies using the exact same CV and cover letter. They are experienced recruiters and will be able to identify the individuals that do this. Spend time filling in applications individually and personalise cover letters highlighting your relevant skills for a job. You also need to research the company and find out if you will be a good fit for them. It is a big investment from your part to spend 12 months of your life at a company so you need to be sure you are going to get the development and support you want from your employer. It would also be good to find out about the culture of the company and evaluate if this is the culture you want to work in – some people prefer a creative environment while others may thrive in more corporate environments.
Would you recommend going on a Professional Training Placement?
If there is anyone who is in two minds about doing a placement year, I would make a strong recommendation to take the chance and do it. It will be a great experience for you to learn more about yourself as a person and learn more about the different strengths you have. You will be able to leverage these skills when you can back to University for your final year and hopefully get the best grade possible. It will also give you the opportunity to get a taster of what kind of career you want to go into and what kind of culture you want to work in. If you don't necessarily enjoy your placement, at least you know what it is that you don't want to do in the future.
Top tip from the Employability and Careers Team
If you are currently looking at placements, check the company deadlines!
Some companies have deadlines early October, so make sure that you're aware about early deadlines.