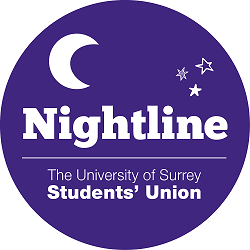 Maddie Thomas, the Volunteering and Engagement Coordinator for The University of Surrey Students' Union talks about the benefits of volunteering for Nightline
What is Nightline?
Nightline is a listening service, run by students for students. Open at night, when other university support services may be closed, Nightline gives students an anonymous and confidential space to talk about anything that may be troubling them, from exam stress, relationship worries to mental health concerns. Volunteers are trained to support and listen to callers, without giving advice or passing judgement. The Nightline Association is a volunteer-run charity that supports the running of university Nightlines across the country. All Nightlines are run by a committee of student volunteers, similar to a sports club or society.
While a core aspect of Nightline has always been its support over the phone, Nightlines are now able to provide support via text, email and instant messaging, as methods of communication have changed over the years. Otherwise, the principles of Nightline have remained the same.
How can students become involved in volunteering?
Nightline services are run by students for students; we are currently recruiting for Listening Volunteers to join the team and help support Surrey students. Nightline Listeners answer calls, offering a friendly ear to listen, support and information on a range of issues. It's a challenging but hugely rewarding role that will have a big impact on the people you support.
If you're not sure that being a Nightline listener is for you, there are other ways you can get involved in the service. We're also looking for Nightline Ambassadors who will play a key role in promoting and marketing the service, running the Freshers Fair stall, library stall, distributing posters, flyers and other promo material to help publicise the service. This is a great way to learn about how Nightline works and help support the service if you can't commit to being a Listening Volunteer.
What skills do you need to be a volunteer?
Other than being a current Surrey student and being a proficient English speaker, there are no experience requirements as you will learn the skills needed to be a Listener during training. Just being open minded, empathetic and interested in people is a good place to start.
Can you tell me about the training programme?
Volunteers all undergo a rigorous training programme before they can start taking calls. Training covers all of the skills needed to be a successful Listener, as well as giving an in-depth understanding of our policies and procedures. There's plenty of opportunity to practise your skills through role plays, practice phone calls and other tasks and activities which will help you develop the active listening skills needed. The exact format can vary, but will generally consist of an information 'taster' session, followed by an intense weekend training programme. Volunteers are under no obligation to continue training if they feel that it isn't right for them and are welcome to chat to the Coordinators at any time if they have any concerns.
Ongoing training will take place during the academic year, to keep you up to date with any changes to the way we run Nightline, give you a chance to brush up on your skills and have some more opportunities to learn more about mental health issues and other issues that may affect students at Surrey.
Apart from the training what ongoing support do you give your volunteers?
Being a Nightline volunteer is hugely rewarding but it can be challenging – the welfare of volunteers is of huge importance to us and so there are many support structures in place to make sure that all volunteers feel content in their roles. All volunteers will attend monthly reflective practice sessions at the Centre for Wellbeing on campus; we have a sister Nightline, Northumbria, who are there to listen to anyone who is in need of support. The Nightline Coordinators are also on hand to talk to at any time.
What transferrable skills can students develop by working for Nightline?
The transferable skills you can gain from being a Nightline volunteer will be a valuable asset to any CV. Communication, team work, active listening, organisation, professionalism and discretion are just some of the skills you will develop as a Nightline listener. Being a Nightline volunteer requires dedication– something that is important to potential employers and examples of your commitment to activities outside your degree will help you to stand out during recruitment.
Can you give me any examples of how working for Nightline has influenced volunteers' career paths?
Volunteers come from a range of backgrounds and degree courses, from Psychology to Politics, and while the transferable skills are valuable for any career path, some volunteers have expressed an interest in moving in to a counselling or therapy-based role after completing their studies.
Do you have any current deadlines for volunteer application?
Interested students are welcome to apply now, please email ussu.nightline@surrey.ac.uk for the application form and for more information. Applications for the semester two training programmes will close on Monday 5th March, but interested students are urged to apply as soon as possible as numbers are limited. Unfortunately we are not able to train students in their final semester to be Listeners but they are welcome to apply to be Ambassadors.