Last year eight University of Surrey students went and spent their placement years at GlaxoSmithKline (GSK) who have a range of placement opportunities across business, engineering and science. Claire, Marine, Samantha and Emma are four of the students who have told us how they spent their year. The 2019/20 placement applications have opened, find out more about why and how you should apply below.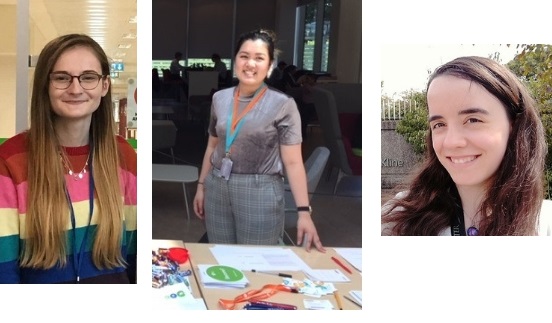 Placement year highlights
"Being part of a 7-month preparation for the Learning campaign being rolled out to the entire organisation globally. . . It was definitely challenging and daunting to manage so many stakeholders at once," – Marine Tooh from Business Management (Entrepreneurship)
"My placement highlights included being part of a project team and providing data that was having a real effect leading me to feel a real valued member of my department and the company as a whole." – Claire Seaman from Biochemistry
"During the year, I had 12 students (15-18 year-olds) work-shadow me. There were many other opportunities to inspire the next generation of researchers as a STEM ambassador. For example, working on GSK's (Birmingham) Big Bang Fair stand, which provided the opportunity to meet colleagues from sites across the entire country." – Emma Hobbs from Biochemistry
"Learning and applying a vast range of analytical and laboratory techniques was amazing, especially as it often used lots of expensive resources and hi-tech equipment." – Samantha Walker from Biomedical Sciences
Advice on How to Stand Out
We asked last year's GSK students for some advice for current second years wishing to apply. Their advice about how to stand out in both application and interview gives some insight to students who decide to apply this year.
"Having that odd hobby or hard-earned achievement provides not only a chance to impress, but also a talking point where you may feel more comfortable" – Samantha Walker
"Typing the responses in a word-processor first will minimise grammatical and spelling errors" – Emma Hobbs
"Joining a society shows that you are a more rounded person and gives you a lot to talk about at the interview" – Claire Seaman
"To all fellow business students, please don't disregard and make good use of the (Business Skills) module!" – Marine Tooh
If you would like to read more about University of Surrey's placement students, Marine Tooh, Claire Seaman, Emma Hobbs and Samantha Walker year at GSK, please click on their names to read their blogs.
Applications for 2019/20 Placements are Open
GSK are advertising 300 placement roles across business, engineering and science. They accept any degree discipline for their commercial roles, and the technical roles have more specific degree subject requirements. There is no deadline for applications and posts will close as soon as enough applications have been received, so we do advise applying early!
GSK will be at the University on 10th October to give guidance on the GSK interviews from 4-5pm. Details of how to book will be available nearer the time.
For details of the Placement scheme at GSK have a look at their Industrial placements web page.
For details of the specific jobs advertised please have a look at the GSK job vacancies on Surrey Pathfinder.
"The personal and professional skills that I have developed at GSK, along with the knowledge of the impact my work has had, has made me feel so much more prepared for final year." – Samantha Walker