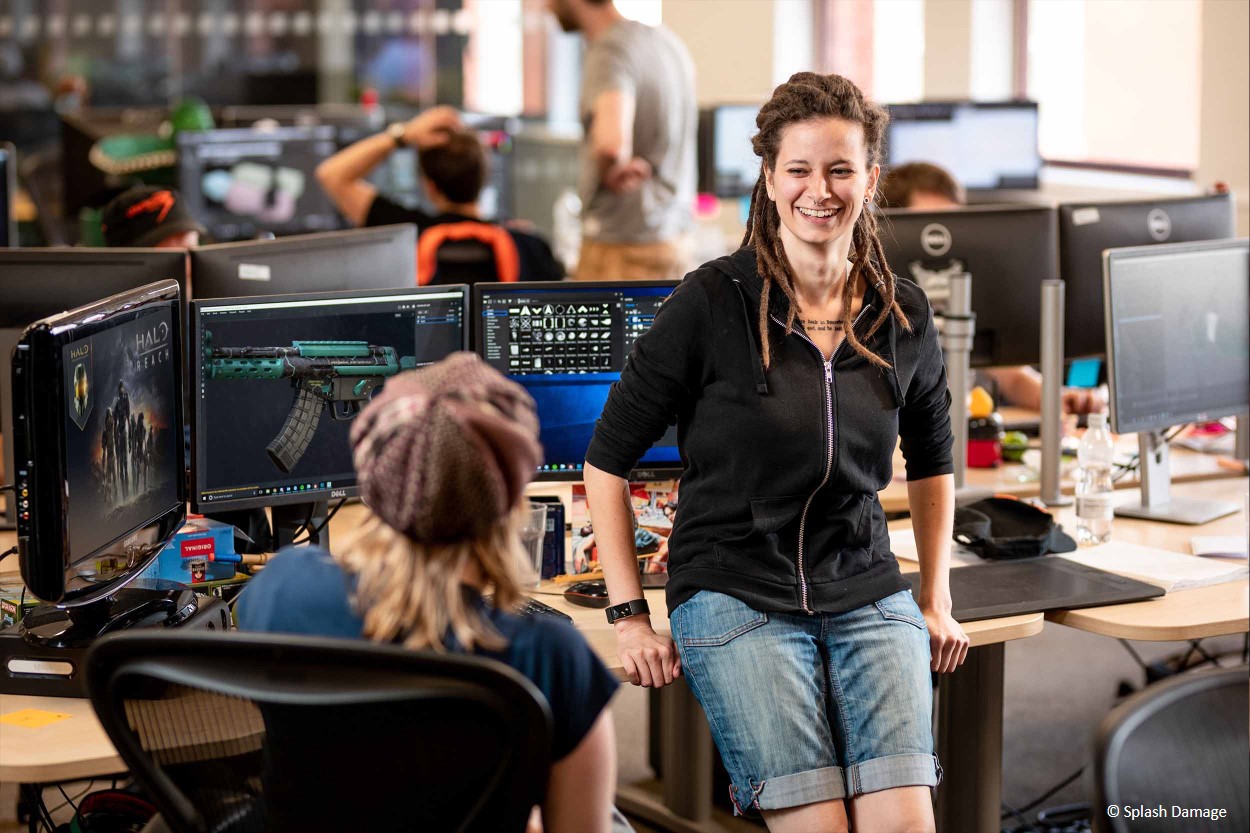 Games Careers Week starts on 26 March and includes lots of insight events and resources. In this blog we have a look at the UK games industry, where the games companies are located, the types of jobs in games, and how you can get an insight into the industry.
What is the state of the UK games industry?
Before the 2020 lockdown, Britons were already a nation of gamers, with around 37.3 million of us playing video games. Having more time at home during the pandemic has led to sales of games increasing by 15% this year.
The UK games industry is thriving, with FIFA 21, Call of Duty: Black Ops Cold War and Grand Theft Auto V having been big hits for the UK gaming companies, of which there are around 2,284. Larger companies include Rockstar Games, Codemasters, Ubisoft and Jagex. But there are also lots of very small companies, many are micro studios with less than five full-time staff.
Locations – where are the games companies?
There are games companies all over the UK. Have a look at the Association for UK Interactive Entertainment (UKIE) interactive Games Map of the locations. There is a high concentration of companies in the South East, with 33 in Guildford alone!
Guildford is a creative hub for the gaming industry, since the inception of Bullfrog Productions by Peter Molyneaux in the 80s, and an incubation hub in Surrey Research Park. You will find innovative companies like Electronic Arts, Criterion Games and Ubisoft operating from here. Have a look at the Guildford Games Developer on Guildford.Games.
What jobs are there in the gaming industry?
There are over 25,000 people working in the UK games industry, and the industry grew by 12% between 2018 and 2020. There are lots of different creative and technical roles available for those who are passionate about gaming.
The three most common roles on offer are –
Games Artist – This role involves creating concept art, storyboards, packaging designs and marketing materials. You would need to master specialist software packages for this role.
Games Designer – This role involves coming up with ideas for games and overseeing the creative process. It requires a mix of technical and creative skills. A knowledge of programming languages and software packages is also required.
Games Developer/Programmer – This role involves writing code required to build a playable game, by taking the vision of the designer and making it work in practice.
Other roles you may find in the industry include
Animator
Audio Engineer
IT Technical Support Officer
Quality Assurance Tester
Games Producer
Translator
Writer
Marketing
Sales
Screen Skills have a full list of jobs in the games industry here.
How to find a job in the games industry
While the bigger companies may take on graduates, there are not many specific gaming graduate schemes. So, work experience is crucial for getting an entry-level position.
Jobs can be advertised on industry websites like GamesJobsDirect and GamesIndustrybiz, but it is also worth looking on individual company websites for vacancies. You can use the Ukie Games Map to find companies.
Organisations like Into Games and Grads in Games have great resources on their sites including jobs, careers, insight events and community groups.
Many jobs in the industry won't be advertised for reasons including cost and the quantity of applications when they do advertise. So, it is also worth making speculative applications to both small and large companies. See our Job Seeking: The Hidden Job Market leaflet for help with making speculative applications.
Breaking into the games industry
Making contacts is key to hearing about opportunities in the industry.
Attend gaming events
Join forums or find a mentor to start making industry links. Into Games has these opportunities on their website – Discord Community and Mentorship programme
Search LinkedIn for relevant industry groups, and start commenting on interesting posts within the groups
Join relevant Student Union societies to meet likeminded people
Build your experience by offering to test play early games and have a go at creating your own game.
Learn to code – Teach yourself some coding language or look out for free courses where you can start to learn code. Check out FutureLearn and Coursera for free courses. Screenskills also offer free online training.
Check out this article by Intogames on Getting Started with Programming Game Development
Future Learn offer a free course How to Start your Career in Games Development
Attend free insight events. UKIE'S Games Careers week are hosting a series of events between 24 March and 2 April including –
There are lots more events on in this week which is focussed on inspiring people from all backgrounds to discover careers in games. For a full list of events >https://gamescareersweek.org/events/

Resources