We have put together these handy tips for making the most out of our Virtual Technology Fair on 27 October and how to follow up with employers.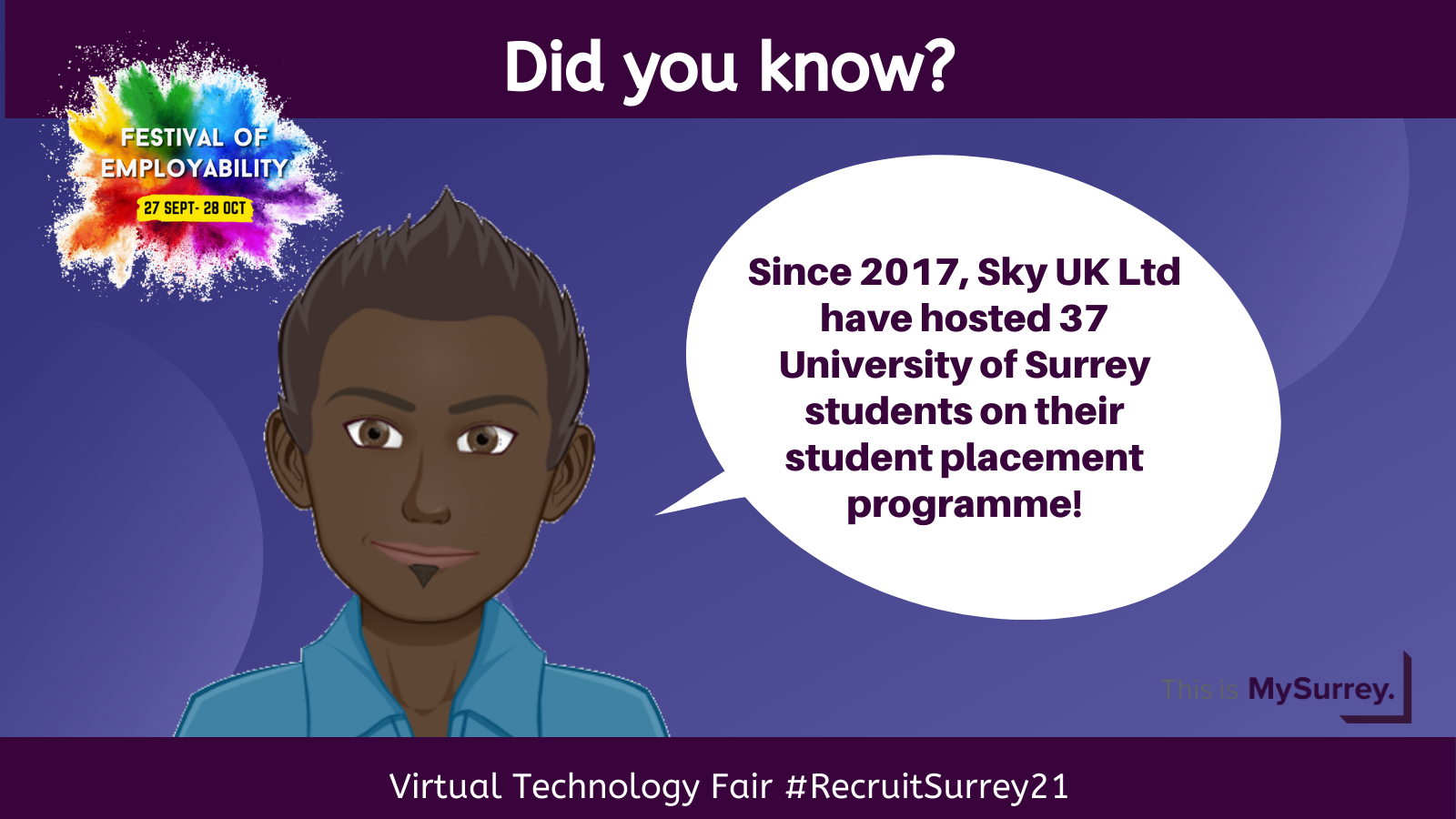 On the Day of the Fair
Check your schedule Have another look at who is attending. There may be new exhibitors, or new slots may have been scheduled
Get your IT working an hour before
What to wear There is no need to wear a suit, but dress code is: smart/casual as if you are going to a live careers fair.
Make the most out of the experience
This may be the first time you have attended something like this. This is likely to be the case for many of the recruiters as well. So don't worry! The reason they are coming is because they really want to meet Surrey students.
Use the fair to find out about companies that you have not heard of, and sectors that you had not considered previously. You may find sources of careers inspiration by doing this.
Networking
The thought of networking does not appeal to everyone, but really networking is just talking to people you haven't met before. This is something you do all the time, especially as a student.
The people you meet at the fair would love to help you and would also enjoy talking about their roles. If you are not a great conversationalist, you can go with some questions prepared to help start your conversation.
Examples of good questions are
'What do you most enjoy about working here?'
'What advice would you give to someone trying to get into this sector?'
We have some great tips for networking in our blog How to Enjoy Networking
Body Language and Etiquette
Have good open body language, make good eye contact, smile, listen and show interest in what the employers are saying. Always be professional, even if the employers are using a chat function instead of face to face.
Be Flexible
The employers are all likely to run their stand in different ways, using different platforms. Some will see students in groups, and some will chat to you on your own. Be prepared to adapt to the differences between stands.
Connecting
If you really like the sound of a company you meet, or an opportunity they are recruiting for, tell them! Let them know that you will be applying. Ask them if it is OK if you connect with them on LinkedIn or take their contact email address.
After the Fair
Connect with the employers you met on LinkedIn. Go to their LinkedIn page and click 'connect' from there. This way you get an option to add a short note when you connect. Please make sure you add this note with your connection request explaining where you met them
Send a follow up email, letting them know that it was nice to meet them and thanking them for their time. It is not usually advisable to send your CV unsolicited, so make sure you follow their application protocols
Apply for the live vacancies you are interested in. Make sure your CV is tailored to the role and that you write a unique cover letter specific to their company and their advertised role. You can book an appointment to get your application checked before you send it off.
Good Luck at the Fair! If you haven't registered for a place yet, you can book a place here.