What are your plans after you leave university?  Is this a question that's on your mind or that your relatives/ friends are asking you?
We understand that, although it will be fantastic to have your final exams behind you, it can also be a daunting time as you transition from education into the world of work. But… don't worry, we are here to help, you don't have to make the transition alone.
Having a degree opens a whole host of amazing job opportunities for you. You can apply for graduate roles that don't have anything to do with your degree. Many roles just require you to be a graduate… which you will be! So that's good news!
If you're looking for your perfect graduate job, or want to research ideas for your graduate role, then our Graduate Job Fair is for you!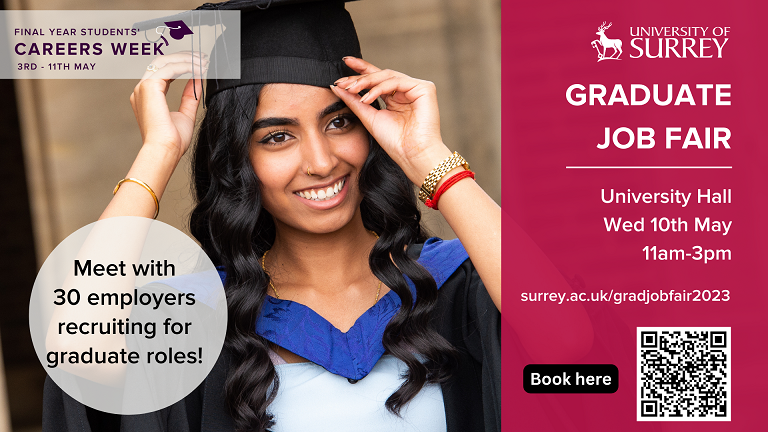 What is the Graduate Jobs Fair?
The Graduate Jobs Fair will be taking place on 10th May between 11am – 15.00pm in University Hall. If you are in your final year at Surrey University (whether you are a year 3 undergraduate or a masters student) then this fair is designed for you.
Why attending the fair will benefit you
You will get the chance to meet with up to 30 employers who have jobs available for you.
You don't need to be nervous attending the fair because you know that the employers attending want to meet students, like you, who are ready to start their career journey.
There will be employers from many different industries, so if you don't know what job would suit you best, or what industry might interest you, you can use the fair as an informal fact-finding opportunity.
You can find out about
the jobs and companies that appeal to you,
what their recruitment process looks like
and what they can offer you in terms of salary, career progression and work/life balance.
Do you need to prepare for the fair?
We know that you will be busy revising for your exams or doing your dissertation so you might not have much time to prepare for the fair. However, you will get more out of it and feel more confident attending if you can manage a little preparation before.
To make this easier we have arranged a workshop for you on 4th May.
Make the most of your Graduate Careers Fair
This will be on campus and delivered by Emma Pearcy from Hays Recruitment. Emma works with large employers every day so she will be here to suggest:
impressive ice breaker questions to ask the employers attending the fair,
ways to research employers before the fair
how to follow up after the event to give yourself the best chance at securing a job.
Other tips to prepare for the fair
Doing a little research into the employers coming to the fair to understand who you want to talk to and what you want to ask them.
Bringing a notebook and pen so you can take down contact details of the employers you talk to ready to follow up with them, connect on LinkedIn after the event.
Thinking about what to wear. You don't have to wear a suit but consider that you might meet your future employer so make an effort to look and behave in a professional manner.
Having some set questions ready to ask each employer which helps you to look confident. These can be something simple like:
– What roles are they recruiting interns/graduates for?
– What positions at your company would be a good option for someone with your degree/educational background?
– What does the recruitment process look like?
Careers Support when you leave Surrey
Don't worry, you will still have access to our support once you have finished your course. If you are graduating this year you can continue to access our services for up to three years after you graduate.