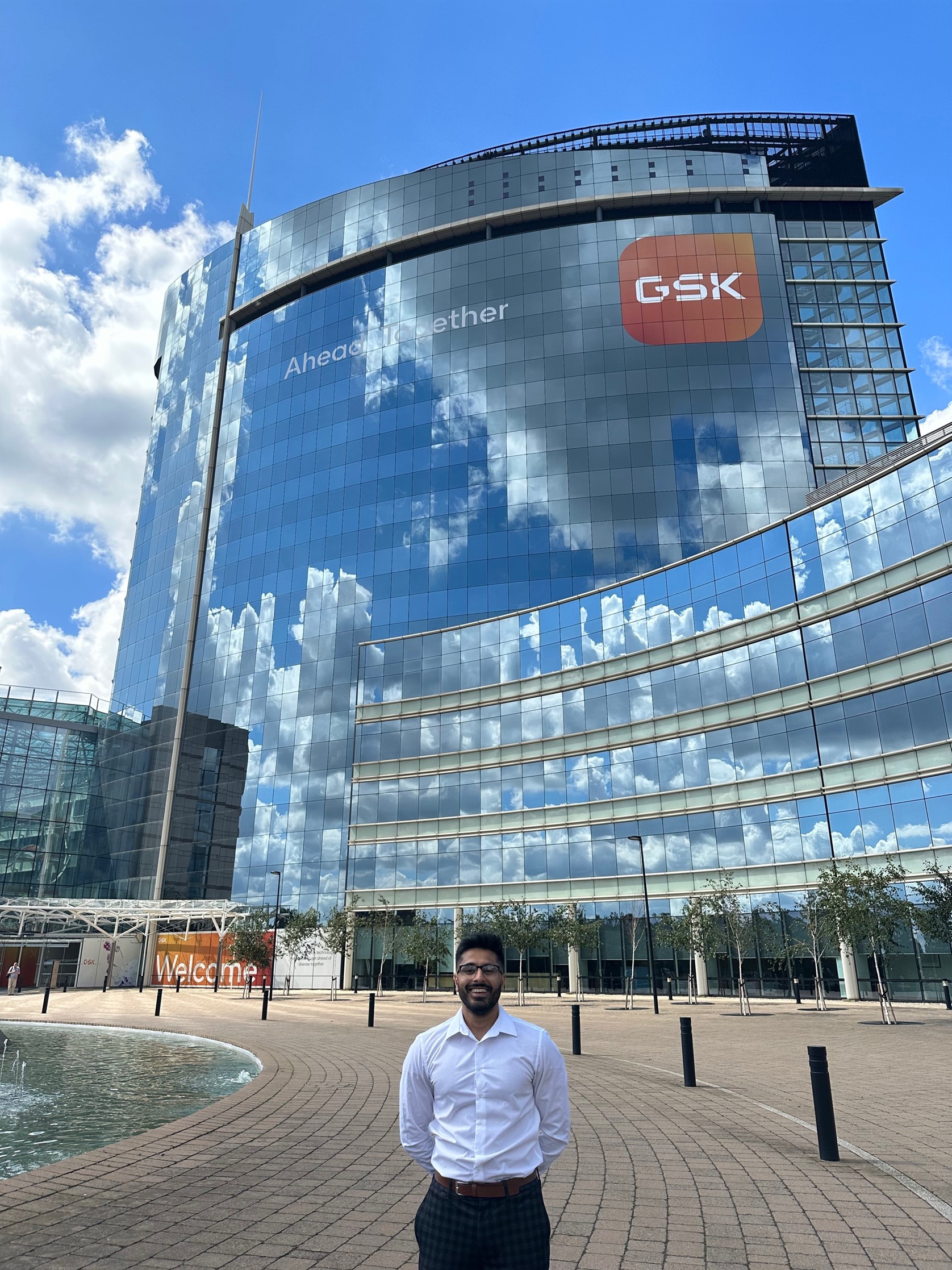 Hi everyone! I'm Mustafa, a final year Business Management student.
I completed my placement at GlaxoSmithKline (GSK) in a supply chain role. My specific role was as a 'Global External Manufacturing – Small Molecules API Operations IP' – quite the mouthful I know!
I was basically part of a team responsible for the end-to-end management of external Contract Manufacturing Organisations (CMOs). These are third parties who create GSK products on behalf of the company. As the primary contact for these third parties, I facilitated effective communication ensuring the supply of high-quality Active Pharmaceutical Ingredients (API) were on the correct timelines with no stockouts.
GSK application process
The GSK application process was very lengthy, consisting of five stages I believe. This started with competency tests and finished with an assessment centre alongside other candidates where you are interviewed and do a pre-prepared presentation. I didn't necessarily see myself going into a supply chain role, but I was very open-minded going into my placement year and took the opportunity when it arose!
Starting my placement and skills I have developed
My first week consisted of getting to know my team who are based across the globe and getting stuck into a LOT of virtual training. Everyone I encountered was very welcoming and were happy to give up their time and answer questions, especially for enthusiastic new placement students. Over time the workload gradually increased, and I found myself with responsibilities such as hosting meetings and preparing slide decks within the first month.
The main skills I was able to hone throughout the year were networking, teamwork, and professionalism. My placement year massively boosted my confidence and gave me lots of practice in public speaking which I look to take forward into my final year at Surrey.
My other placement achievements
I was also part of a cohort of placement students within the External Manufacturing workstream who were tasked with raising £5000 collectively for Save The Children throughout our placement year. We arranged events from sweepstakes to raffles and quizzes to raise money throughout the year. Through these fundraising initiatives I picked up new skills in negotiation, marketing, and sales, making this thoroughly enjoyable.
My standout moment at GSK was taking part in a Tough Mudder, which is one of Britain's biggest obstacle courses, alongside my fellow placement students – it's safe to say I didn't expect to be doing this when I applied for the role!
How I have developed on my placement
My placement year has not only developed me as a more rounded and professional individual but has also been very insightful as to where I can take my career going forward. I was able to explore different departments during my time at GSK and could see myself working in a more marketing-based commercial role in the future.
I would thoroughly advise a placement at GSK. It looks fantastic on your CV, and they are great at taking on new talent and developing you as a person. They take on so many placement students and the community and people you'll meet on your journey are great to kickstart your professional network!