Picturing Macron's vision for a European Political Community
Christian Turner is Ph.D. candidate and Junior Fellow with the Centre for Britain and Europe. His research examines post-Brexit British foreign policy, formal and informal alliances through a hard and soft power analysis.
Patricia Amalia Vulpe is Visiting Master's Student at the Centre for Britain in Europe. She holds a bachelor's degree in International Relations at Sapienza University of Rome, and she is a graduating student at the University of Bologna where she studied International and Diplomatic Affairs. Her thesis analyses post-Brexit EU-UK security and defence relations.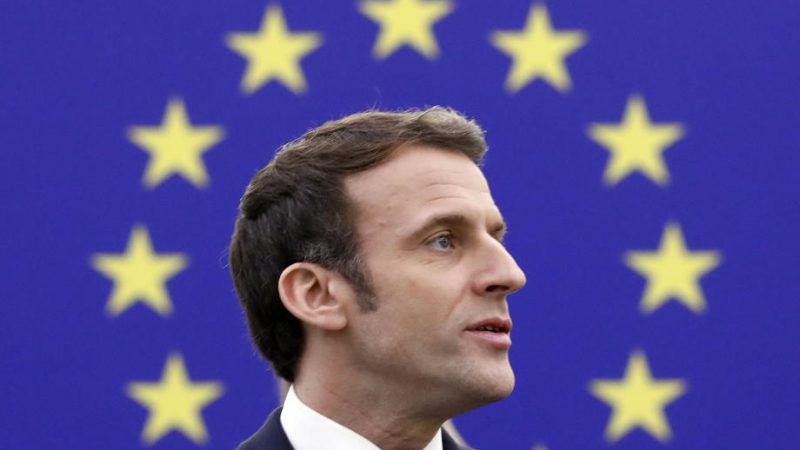 Nearly three months on from the Russian invasion of Ukraine, Europe is still reeling from its impact. Unprecedented sanctions have been placed on Russia and its political leaders by the EU and UK, yet this has not done anything as of yet to deter Moscow from continuing with its objectives. Worse still, the Ukrainian conflict has highlighted the absence of an appropriate forum to discuss European security concerns between EU and non-EU member states. At a time when the post-Cold War security settlement is being ripped up, coordination has largely taken place within NATO, the G7, and occasional bilateral engagements. Britain stands in the curious place of being the largest European military aid contributor to Ukraine yet excluded from EU decision-making processes as a result of Brexit and its decision to not strike a foreign, security and defence policy chapter in the Trade and Cooperation Agreement.
The conflict has raised broader questions for Europe – How will it react to future wars and conflicts that affect it? What will it do if a more isolationist President is elected in the United States? How can the UK, the EU, and its member states cooperate in a post-Brexit world?
In some ways, these arguments predate the Ukraine conflict. French President Emmanuel Macron has long pushed for European Strategic Autonomy, with the aim of enhancing a more independent and geopolitical EU. In essence, he has sought to create Europe as a singular geopolitical actor, with its own interests, separate from the USA and China, as well as other current and rising powers. However, opposition coming from the member states has represented a significant limit to the further development of the concept and the EU is still struggling to move forward with its "normative" nature. There have also been arguments as to whether it should be limited to only the European Union or whether it should include a broader makeup.
On Europe Day, 9th May 2022, President Macron presented a potential solution – the European Political Community. This new organisation would comprise both EU and non-EU member states. Those wishing to join the European Union, such as the Ukraine and countries in the Western Balkans, would be able to join as the pathway to full membership. Intriguingly, Macron also suggested that it could be open to those 'that have left the EU', suggesting a role for the United Kingdom. This is not the first time Macron has tried to find a role for the UK in a post-Brexit relationship. He had previously suggested a European Security Council, yet this gained little traction as it was ill-defined and not clear as to whether other non-EU countries would be a part of it.
On this occasion, President Macron put some more substance on his proposed new organisation. It would allow 'democratic European nations' that share 'core values' to 'find a new space for political and security cooperation'. It would include cooperation in areas such as energy, transport, investment, and the freedom of movement of people, especially youth. Its desire would be 'to preserve the unity of our continent and [preserve] the strength and ambition of our integration'.
Why now?
The European Union is currently undergoing negotiations on the prospect of future integration. The Conference on the Future of Europe, bringing together 800 citizens from the 27 member states, recently concluded and made recommendations on possible areas for integration. Yet, the proposed report has already been rejected by 13 member states over accusations that the propose was dominated by the European Parliament, who were seeking to make changes that benefited them.
It comes on the backdrop of Ukraine applying to join the European Union, with strong support from Eastern European member states. Yet, France has been clear that the process to join the EU is long and that even in the face of death and destruction, there can be no quick paths into the EU. This may also serve as a subtle way to appease Western Balkan nations such as Serbia and Albania, who have long been candidate countries yet show little prospect of being allowed in any time soon. Macron's proposal would allow these countries to continue on the path to full membership, ensuring that progress continued to be made and allowing them to contribute on potential key decisions in the future.
For Britain (and Greenland), it could allow a structure to cooperate within security and defence policy; a way of developing its own special relationship with Europe. The Ukraine crisis has left Britain relying on the G7 and NATO to coordinate policy, an unsatisfactory outcome for the EU given that the UK is one the largest European military and humanitarian aid contributor to Ukraine and has recently signed mutual defence pacts with Sweden and Finland. During a recent special EU Council meeting with US President Joe Biden, Prime Minister Johnson was not invited, even though Foreign Secretary Liz Truss took part in a similar meeting of Foreign Ministers two weeks earlier. This lack of a coherent and consistent relationship shows the perils of jointly navigating mutual challenges in the absence of a formal collaboration mechanism.
How could this work?
The proposed organisation would likely have its own staffing, budget and figurehead – such as NATO's Secretary General or the EU Council President. It would meet to coordinate the policy areas outlined above, but primarily focus on security and defence, allowing for coordination in this vital field without the economic and political dependency that EU membership requires. It would allow Europe to deal with issues together – such as the current Ukraine conflict, but also future challenges such as the Indo-Pacific region or migration challenges. It would provide Europe with a more flexible means to respond to crises, covering the worse-case scenario of a United States that either does not care for European matters or is preoccupied in countering China (or both). It would likely have an opt-out mechanism for members to not endorse a decision, thereby removing the issue of unanimity that can sometimes undermine EU decision-making. It remains to be seen how members would join the organisations, especially in the face of populist-leaders in nations such as Turkey.
The proposed European Political Community would reflect the changing of the international order and introduce a new organisation to deal with it. It would strengthen the bonds between nations, ensuring a clear forum exists to coordinate and cooperation security and defence policy. Conversely, it is not clear how it would sit alongside NATO, especially on the back of expected associations by Sweden and Finland to the North Atlantic Council. Further still, it is not clear how it would operate alongside the European Union – too close and it could alienate Britain; too far away and prospective EU members will feel frustrated and abandoned. Yet, what it does do is recognise the problem of EU and non-EU security and defence cooperation, suggesting a possible solution to it.
It is often in the rubble of war that the foundations of strengthened institutions and alliances are laid. Poignantly, Ukraine can serve as a guiding point for closer European collaboration and cooperation in an ever-challenging world.