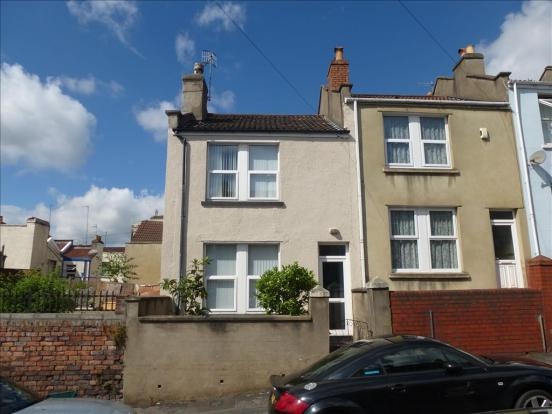 In this four part series of blogs, CES academic Dr Jonathan Chenoweth explores the trials and tribulations of bringing a 19th century terraced house up to a modern standard of insulation and comfort.
Part 1: Planning the eco-renovation
In December 2013 my partner and I bought an end of terrace house built about 1880 which was not in great condition and so perfect for doing an eco-renovation. The house had textured wall paper everywhere which had been painted over many times, and now in places was peeling and mould covered due to damp in the solid brick walls. Every room had a huge radiator, suggesting that the place needed an awful lot of heating to keep it liveable in the winter. As our building surveyor described it, the floor was "soft" in places, suggesting that there were problems with the floors. There was a suspended ceiling in the living room which gave it a 1980s office-style feel, and was no doubt covering up problems above. Other than a lovely plaster archway in the entrance hallway, there were no original Victorian features left in the house.
So why did we buy the place? Well, the house had a large garage at the rear backing on to another street – so easy bike access and storage and the house was in a fantastic location. So what was our aim and what was planned? We wanted a house that would be comfortable to live in and cheap to heat. We also wanted to make better use of the space, and we wanted to sort out comprehensively all the problems found in a 135 year old house not in great condition. Fortunately we wouldn't have to live in the house while doing the work as my partner was yet to sell his flat.
With solid brick walls, there was no cavity to insulate between the outer and inner layers of bricks. We couldn't do external wall insulation – sticking insulation on the outside of the existing walls – because the house was built right to the property boundary. Insulating the outside of the end of terrace wall would have meant purchasing 10 cm of land from four neighbouring properties which back on the side of our house – a legal and bureaucratic nightmare. We therefore decided that we would insulate on the inside – doing internal wall insulation. We also decided to do under floor insulation while sorting out the problems with the floors. While we had the floor boards up for the under floor insulation we might as well get the old lead water pipe probably still supplying the house replaced and heavily insulate the heating system water pipes. Heavily insulating the loft also seemed a good idea as did getting rid of the suspended ceiling – this was to be home not an office. The house had Artex style textured ceilings in most rooms which may have contained asbestos and were in poor shape, so getting all the ceilings replaced seemed sensible. The boiler was ancient and so probably only about 50% efficient – half the heat produced by the boiler was going up the chimney rather than heating the house or hot water – so getting a new condensing boiler that would be about 90% efficient seemed sensible. We also decided to replace the front door with a highly insulated one and install a second inner door two metres down the hallway from the front door. This was so we wouldn't get draft blowing in whenever we opened the front door and so we would have room for a bike in this front vestibule when we had cycling visitors. In short this was to be nearly a full renovation.
What weren't we going to do? We decided not to go for solar panels on the roof. Why? Well, given how the roof was built it did not look like it could take the weight of solar panels. (It already leaked.) Putting panels on the roof would therefore have required a complete roof rebuild, something that we couldn't afford to do. Solar hot water? Given the savings in heating costs, I worked out it would take about 20 years for such a system to pay for itself and with the expected life span of a system being less than this, we couldn't justify the cost. At least with insulation the insulation itself should last many decades and so eventually pay for itself. Mechanical Heat Recovery Ventilation System? There was no point. These systems are only effective in an airtight modern house, not the drafty old thing we had just bought.
Anything else planned? No. But as this was an old house we didn't know what to actually expect once we got started. No doubt there would a few surprises along the way.
Part 4 – Insulating the ceiling & installing a Mechanical Heat Recovery Ventilation System