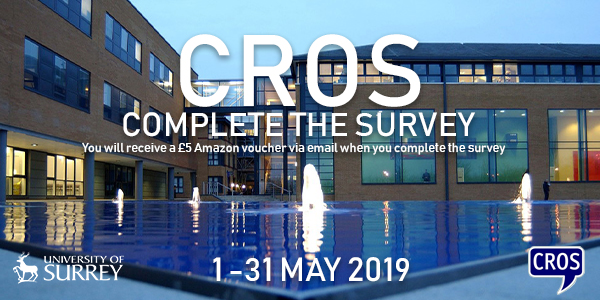 What is CROS?
The Careers in Research Online Survey (CROS) is run by Vitae, the global leader in supporting the professional development of researchers. CROS gathers the anonymous views of research staff in UK higher education institutions about their experiences, career aspirations and career development opportunities. The data indicates progress on implementation of the UK Concordat to Support the Career Development of Researchers and the European HR Excellence in Research Award at Surrey.
Why should you take part?
Your feedback really has an impact on the work that the Doctoral College does to support ECRs. Without the data from the survey we can't ensure that the work we are doing is exactly what you need. The survey only takes 10-15 minutes, and as a thank you for taking part we're offering you a £5 Amazon e-voucher*.
You Said, We Did
Your feedback really does matter and the Doctoral College have taken actions below based on last year's CROS:
1. Increased Careers Support
You said:
Only 44% overall satisfaction with support and career development;
60% say they would like to undertake career management training and developmental opportunities.
We did:
Increased the number of people dedicated to providing career development support for researchers,
Working within departments to tailor new careers provision (launching in May/June),
Established the Doctoral College Alumni Programme open to ECR alumni offering continued support and career development beyond the end of their contract.
Increased skills development training
You said:
You would like training and development opportunities in Public Engagement, doctoral supervision, publication and writing funding bids.
We did:
Employed an academic writing tutor within the doctoral college, who supports ECRs. This post is currently creating a suite of specific workshops for ECRs around publication, writing funding applications and responding to peer review, as well as provides one-to-one support.
Created new Public Engagement training and support, including our Public Engagement Day (14th March), Brilliant Club and Bright Club opportunities as well as new training sessions throughout the spring/summer.
Opened Supervisor and Examiner training to ECRs.
2. Recognition and Value
You said:
You lack opportunities to participate in University decision making.
We did:
Expanded the ECR representative forum, seeking to have at least 2 reps from each department/school/centre.
Integrated the ECR reps into the University Committee structure with the forum chair sitting on the University Research and Innovation Committee, and the deputy chairs (one per faculty) sitting on the HR Excellence in Research working group.
3. Protected Development time
You said:
88% said they would value protected development time
We did:
Currently working on establishing 10 days protected development time for researchers, with a proposal drafted and introduced at the Research and Innovation Committee. (Note this one is still a work in progress).
Please look out for the emails that will be sent to your university account and if you can spare some time to complete the survey it will be very much appreciated.
*Your reward will be sent to your University email if you add this information during the survey. The email may take a few days to be sent through.