Ashish Sharma, Doctoral Graduate (GCARE, University of Surrey)
"In moments of quiet reflection our minds embrace the sea that we have crossed."
– Holmes, The Fathers on the Sunday Gospels"
Making Life's Toughest Choices – Passion versus Pragmatism
As I complete a long-awaited journey of my doctoral studies in civil and environmental engineering at University of Surrey, I take this lifetime opportunity to self-reflect on my PhD journey – a journey filled with aspirations, persistence, patience, aspiration, failures, and rewards. The above quote perfectly resonates with my own personal belief that self-reflections are an effective tool to look back at our own experiences, circumstances, and to better appreciate the paths we crossed. Though there are times when you may want to reprogram your past to change some of your actions and choices, it's important to know and accept that there will be always longings for the path not taken! This is wonderfully captured in my favourite poem by Robert Frost, which I have always appreciated since I learnt it during school.
Two roads diverged in a yellow wood,
And sorry I could not travel both
And be one traveller, long I stood
And looked down one as far as I could
To where it bent in the undergrowth
.
.
I shall be telling this with a sigh
Somewhere ages and ages hence:
Two roads diverged in a wood, and I –
I took the one less travelled by,
And that has made all the difference. — Robert Frost
Though the meaning of these lines remains debatable to me and very much depends on your own position and perception, what I perceive is that our choices past determine our future, and the courage to opt for a less popular choice is always hard. We may be tempted to stay in our comfort zone, and this may impact outcomes in the future, too. To a draw parallel, pursuing a PhD for me was a lesser-travelled path when I compared myself with my school friends and colleagues who reached management positions in the corporate sector; I opted for a PhD, leaving my comfort zone of a typical job with normal working hours. Perhaps if I hadn't taken this choice then I wouldn't be writing this blog about my personal journey during my PhD studies at Surrey.
Each one of us has a unique personality, identity and an inner beauty which distinguishes us from others. Sharing our personal stories not only helps us to better appreciating our own choices and our unique selves, but it also inspires others to learn from our decisions and to relate this to their own experiences. To draw an analogy, we may just observe nature: different plants and trees may grow in the same garden and yet difference flourishes. This happens because they all utilise their own energy for their personal growth instead of using it to compare themselves with the other. By contrast, humans insist on comparing themselves with others and end up feeling miserable. This is one of the essential lessons for a PhD students and advisers: to avoid comparing their progress with others, for every student is unique and capable of inspiring positive change through their efforts, commitment, perspiration, and vision.
For PhD researchers, I stress that though their journey may seem lonely, never-ending, and challenging, it is indeed rewarding in the end! For instance, it's so fulfilling indeed to see my own journey and as a finishing touchdown to grab this coveted and hallowed title of "Doctor of Philosophy", a title worth aspiring and striving for!! Therefore, our stories are worth sharing and spreading! My Ph.D. thesis is titled "Quantification and mitigation strategies of particulate matter exposure to young children" based on a UK Research and Innovation (UKRI) funded Project MAPE (Mitigating Air Pollution Exposure to Young Children). It's a topic of global importance given the serious health implications of early life exposure to young children. Perhaps, this is the reasons that it has received considerable international publicity; numerous media stories have covered the work since its inception in 2017.
Roads Less Travelled
Prior to starting my PhD at Surrey, I worked as an Environmental Sustainability Researcher abroad and it's been a fascinating journey to be able to travel across continents and work with prestigious research groups overseas for almost 5 years, including Gwangju Institute of Science and Technology (GIST; South Korea), The University of Toledo (Ohio, USA), Macquarie University (Sydney, Australia), and Indian Institute of Technology (IIT Delhi, India).
I come from a very humble economic background in the small town of Aligarh in Uttar Pradesh, which is mostly known for its prestigious University of Indian Central Government, Aligarh Muslim University. It was no less than a dream for me to be able to study overseas, since I had no budget or real plan of how to pay for hefty tuition fees overseas. I still remember when foreign education consultants in Delhi would enquire about my bank statement, and this was the part I hated. It was as if my financial standing was more important to them than my talents, skills set and burning desire for overseas studies. In fact, I remember a day when I felt so depressed that I almost broke down with anger and frustration, but I was still beautiful at heart. I responded to one such consultant saying:
"Though I have no budget today, and in fact my father had a family debt, still one day I will accomplish my dream of studying overseas and that too without having any plan for tuition fees or even for a flight ticket".
As they say, when you do your best then somehow universe has a strange mechanism of unfolding things in your favour, and you often get what you aspire for! Sometimes while sleeping on the roof on clear night sky with shinning stars, I will close eyes and envision my dream turning into reality and I remember that Airplanes song by B.o.B ft. Hayley Williams –
"Can we pretend that airplanes in the Night sky are like shootin' stars,
I could really use a wish right now…"
No matter how hard your present circumstances may appear, that wish on a shootin' stars can come true! However, the intensity of your desire must be strong, and your actions even bigger. It's not plain sailing. My first trial started when I applied for funding for a conference grant to present a research article on "Social Entrepreneurship" at Adelphi University, Long Island, New York. My abstract was accepted in four countries, but I chose the USA given the greater research impact. During those days, I was studying for the second year of my undergrad BS program in civil engineering (B. TECH) and was very passionate to travel and present my paper at this conference at States. I worked hard to secure funding and not only this, but I pushed extra hard to even secure advance funding to pay my air ticket bills.  I managed to secure some 2000 USD and after all that hard work of 3 months, later I attended my USA visa interview and to my unpleasant surprise, my USA B1/B2 visa got rejected. That journey of 130 miles (3 hours) in 2010 by a local train from Delhi to my hometown (Aligarh) was the hardest and most lonely journey I had ever experienced in my life. I felt broken, miserable, and hopeless, and saw the world at its worst as my dream seemed crumble into pieces. Somehow, I was made to believe that rejection was without any logical reason. Some consulates may see that your bank balance is not high, and so perceive you as potentially intending to immigrate illegally. Though the actual reasons were never disclosed I don't really feel that this was the likely reason. The rejection also left me with a very import life-lesson lesson, which also perfectly resonates with the ancient wisdom of one of the holy scriptures of Hinduism, The Bhagavad Gita's chapter-2 (The Science of Action and Result) verse-47, stated in Sanskrit and English as –

Once we realise this maxim's true essence of not overly attaching oneself to the outcome of an action, then half of our life's battles could be easily won. We can avoid 'Analysis Paralysis', worrying about paths not taken, the road not travelled, or choices not taken. What if I do not pass the exam, what if someone rejects me, what if I lose or what if I die? (etcetera etcetera) Following that US visa rejection episode, I was very depressed for a couple of months, but I never gave up and I started all over again and this time with a bigger purpose and greater determination and conviction.
I recall from one of the speeches of JK Rowling – and my own personal experiences – that when you give your best shot and efforts to make your vision a reality, you start painting yourself a vivid picture of how you will achieve it. As you work even harder, it starts becoming cleaner and cleaner, from blur to high resolution! Not just academic work: I relate this to an experience of hiking for instance – climbing up Arthurs Seat outside Edinburgh. I almost gave up when I looked up at the very steep slope and elevation. Without trying I almost assumed that I could not make it. Two local Scottish women were walking their dogs and upon my inquiry about its safety, they suggested I give the trek a try, and that I always had the choice to return if I got tired. While on the way, I did feel very tired but then when I reached almost halfway, I could see the peak vividly and realised that it wasn't too far, it looked quite achievable. Finally, when I reached it, it almost felt like top of the world! A feeling of conquering. So, it doesn't matter how big or small our goal is, the feeling of satisfaction and accomplishment you get post-completion is much more exhilarating and fulfilling compared to quitting.
Follow your own star
For my next steps during my bachelor's in civil engineering, I started applying for different scholarships to pursue my masters abroad. In fact, I started first with the UK but to my surprise, I again faced multiple challenges to securing 100% funding and maintenance. Firstly, they were highly competitive, and I had average scores with no budget or financial support mechanism of self-funding to pursue abroad studies. Though I got multiple admission offers form British universities such as Manchester, Dundee, and Loughborough, these were mostly without scholarships, and so I had to surrender them. I didn't win any scholarship, presumably because I was an average performer during my bachelors with my CGPA of 8 on the 10-point scale. Then later I learnt from a blog that Korean universities mostly offer scholarships, which are always included with admission offers. This was a truly exciting news for me. I shifted my total focus to South Korea. There were many naysayers and in fact some called me 'foolish' to try for South Korea because of the difficulty of travelling. South Korea at that point of time was perceived as a "crazy choice" in India, or at least in my region, as there was very little awareness about South Korean culture and the sheer technological advancement in that country of rich traditional and cultural values. Many even confused it with North Korea and straightaway condemned the idea. The point of sharing this story is to convey an important message: "Never let others' opinions drown your own inner voice". Do your homework and research without any bias or preconceived notions. Address any question with a clear mind. Then decide based on your intelligence in the presence of facts and never regret decision! Once you do that then you hardly have any regrets in life about the choices that you make in the past or today! Once I had completed my research into the ranking of Korea across various indicators as an OECD country, I knew it scored well on all indicators, such as per capita income, technological advancement, and the high impact research of Korean universities. I then reached out to the alumni of AMU abroad and one of them, Professor Ashok Kumar (a retired professor and ex-chairman of the Department of Civil and Environmental Engineering at Toledo) shared a very encouraging reply. It was clear and succinct, and inspired me to keep my head up. His response instilled a sense of confidence in me and that was followed by few more consultations with other Indian PhD students in South Korea, I decided to proceed with my plan. I reached South Korea in September 2012 and was immediately impressed with everything, be it the technological development, infrastructure, facilities on-campus or rich traditional culture. I worked with a great research group and aggressive research culture, and it helped me develop a deep background on topics related to air pollution and climate change.
This journey reminds me of a beautiful song lyric by Billie Joe Armstrong –
"I walk a lonely road
The only one that I have ever known
Don't know where it goes
But it's home to me, and I walk alone
I walk this empty street
On the Boulevard of Broken Dream
Where the city sleeps
And I'm the only one, and I walk alone…."
… except the road is not always lonely, and it always leads you somewhere. South Korea was a launching platform for my own journey and hence it remains an important part of my career progression. Between now and then, I can only say that Life is short and time flies quickly: nine years ago I left India for the first for Gwangju (South Korea), but then on to the USA, Australia, University of Surrey (UK), as well as to Brazil and Egypt. It has been a thrilling journey so far! Apart from the hardcore educational, technical and knowledge enhancement, such overseas exposure helped me in my overall personal development and ability to change. It pushes one out of one's 'goldfish bowl' and broadens one's perspectives to be more inclusive, through numerous opportunities of cross-cultural meetups across the continents.
Moments of self-reflection – journey is more important than the destination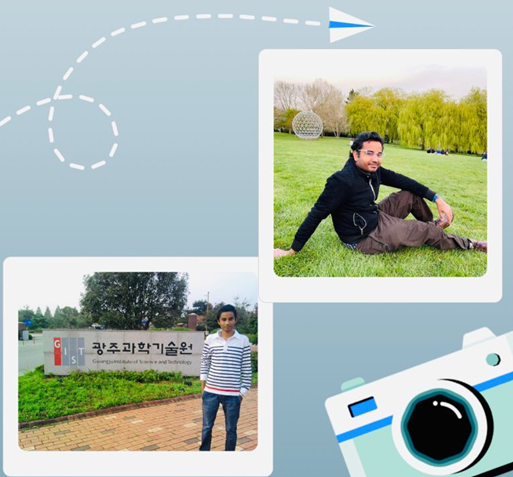 Make Adaptation as Your Life's Attitude Challenge
The ability to effectively cope with change helps one navigating smoothly through unexpected events in life. Particularly in the context of the COVID19 breakout since 2019, we must appreciate the importance of adapting to unexpected circumstances and situations. During my PhD, I was mindful of incorporating the impact of COVID9 on my PhD research. With the support of my principal supervisor, Professor Prashant Kumar, we were able to adapt and tweak our objectives to make them more comprehensive, and to reflect the impact of COVID-19 on our research project, MAPE. This further strengthened my ability to swiftly adapt to unexpected circumstances in future. Now, I see myself as more mature and better positioned to positively confront and respond to difficult situations in both my personal and professional life.
The journey of a PhD is never a smooth ride! It's almost impossible to succeed as a researcher in the UK if your background and conceptual understanding is not strong enough, since funded PhD students are almost equivalent to full-time salaried professionals. Researchers should be willing and mentally prepared to contribute effectively to the project deliverables from the very start of their PhD studies. This is even more important for European Union (EU) funded research projects, though in UKRI one may get some further space for personal and skills development. As every well-thought PhD project has a story behind it, solving pressing issue, similarly, every PhD aspirant also has a personal story – their plights, the path they take, and how they tap into their potential to unfold a successful journey to that "Dr" title! Like everyone else I can say I faced many personal trials, and indeed it's a journey of patience, persistence, perspiration, aspiration, and commitment! It was an honour to work with world-renowned professors and scientists and brilliant colleagues who are leading in their respective fields of expertise. The work is naturally challenging, but I feel delighted to get appreciation from committee members for our novel and valuable contribution to studying the exposure of young children to air pollution, and the development of mitigation strategies. It's so fulfilling at a personal level to see our research having direct impact issues as serious as respiratory health and traffic design! One unexpected bonus has been the degree of media coverage for what has become a hot topic, and we have featured in the BBC, Telegraph, Huffington Post, UK Daily Mail, The Economist, and Times of India, just to name a few! Most PhD supervisors motivate their students to disseminate and present their research work and impacts globally, and mine was no exception. In fact, I have rarely stopped talking about my research project. Your research project is your gateway to showcase your own skills, expertise and potential to succeed as a researcher, touching lives and creating impact; I recommend letting the world know what you are up to!
Way To Go, Stories Worth Sharing!
My research group, GCARE's dissemination strategy also helped me to learn the art of transforming sophisticated science into simple yet effective take-home messages. These are skills which I continue applying in my life, making sure my dissemination is designed for specific audiences, and true to my own personality. In fact, I utilised my innate passion for communication to create further unofficial channels and opportunities to disseminate my research findings, both before and after defending my PhD dissertation around October 2021. We should never stop sharing our stories! My recent presentations include Indoor Air Quality Management (IAQM) webinar at the Institution of Environmental Sciences (IES) UK (Ashish Sharma IES MAPE Webinar) and to the air quality and particle technology research group of the Institute of Environmental Engineering, ETH Zurich (Switzerland). Besides I recently attended the conference on Climate Change, COP26 held in Glasgow, Scotland, in November 2021. I managed to share brief outlines of my research work with some of the delegates during the lunch breaks. I always believe that our actions are contagious an have a ripple-effect to create further opportunities. It was totally unexpected to be invited to a high-profile meeting hosted by The Digital Economist and Wood (the Scotland based engineering Consultancy company operating in energy and built environment). It included the mayor of Houston Texas, CEOs, and other experts on Climate Financing Banks, who were visiting from far flung regions from across the globe. Meeting highlighted the convergence of physical and digital technologies towards human and planetary outcomes.
And don't forget where the story started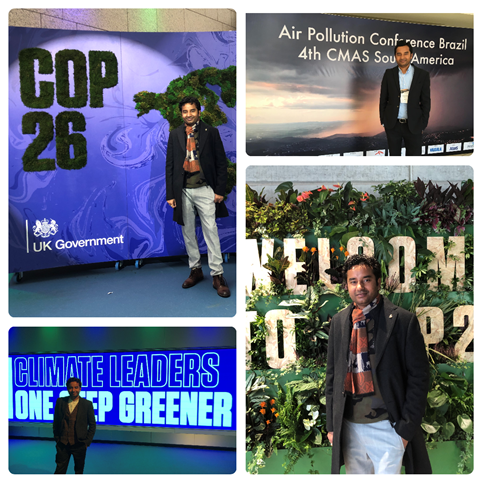 To wrap up, I express my sincere gratitude to my colleagues at Surrey's Global Centre of Clean Air Research (GCARE). It is almost impossible to imagine how this time has flown so quickly, and I value their generous support, love, and dedication. Finally, I express my deepest gratitude and regards to my parents, siblings, and friends (both in India and abroad). Last but not least, in Snoop Dogg style, "I wanna thank me for my patience, persistence, determination, commitment and emotional resilience to make it a success story!" This has been a truly inspiring and exciting journey so far filled with challenges, hard work, failures, rewards, appreciation, and discoveries!
Never had I imagined that the work we are doing will have such a profound impact across all communities, including academics, industry, entrepreneurs, media as well local councils and school districts. It's so fulfilling and enriching experience to achieve this milestone! While I am already engaged internationally with academics, NGOs and thinktanks via collaborative seminars, panel discussions or presentations. I forward to the next Chapter in my life. I recall one of my favourite songs (sung by Amit Trivedi and Amitabh Bhattacharya, composed by Amit Trivedi with English translation) from aBollywood movie UDAAN –
"Kahani khatam hai ya shuruvat hone ko hai, hone ko hai
(Is the story ending or is it about to start)
Subah nayi hai yeh ya phir raat hone ko hai, hone ko hai
(Is this a new morning or is the night about to start)
Kahani khatam hai ya shuruvat hone ko hai, hone ko hai
(Is the story ending or is it about to start)
Subah nayi hai yeh ya phir raat hone ko hai, hone ko hai
(Is this a new morning or is the night about to start)
Aane wala waqt dega panahein, panahein
(The coming time will give me refuge)
Ya phir se milenge do raahein, do raahein)
Khabar kya, kya pata"
Transitions have always been for good to me always – a new start, new beginnings, new morning! Finally, I end with beautiful lines from Robert Frost's poem –
The woods are lovely, dark & deep,
but I have promises to keep
and miles to go before I sleep…"
Thanks to all who helped me in this journey whether it was for a reason, season or for a lifetime!