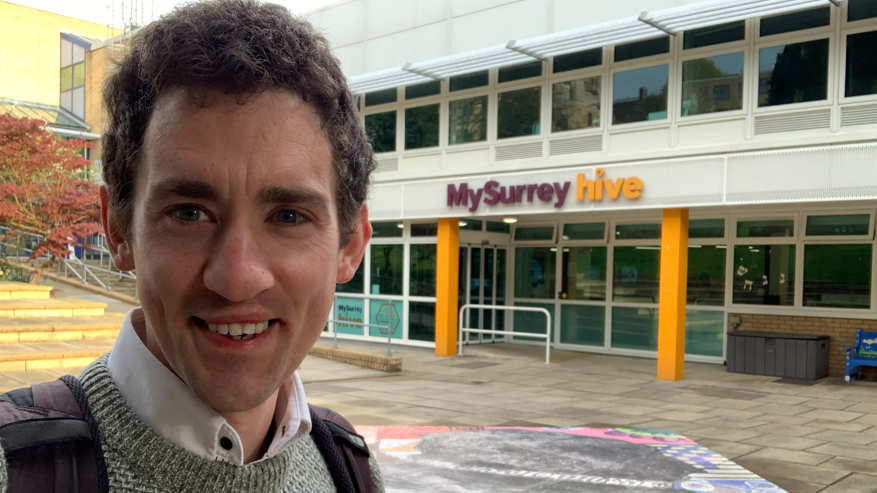 When I first walked through the University of Surrey's campus in February 2022 to begin my new role, I was delighted to see that the powers that be had themed the student-support centre around honeybees. In case the building's name of 'MySurrey Hive' and the cartoon images of buzzing bees on the outside did not give it away, the use of golden yellow as colour of choice and the hexagonal-shaped furniture made the internal décor resemble slices of honeycomb. Even better, and with a nod to apid diversity, I clocked that the building directly opposite was named 'MySurrey Nest'. As we all know, honeybees live in hives, but bumblebees reside in nests!
Seeing not one but two major bee species represented in campus branding was strangely fitting, for before starting at Surrey I spent three years at King's College London researching bees, beekeeping, and the international trade in their wax and honey in the medieval period. This was not a role I thought I would ever have, but I stumbled across the job advert while lecturing at the University of Manchester and decided to apply.
Moving to a such a unique role opened my eyes to the challenges and opportunities that came with being a researcher, with the chance to work as part of a team particularly exciting. I spent much of the project in archives in central Europe, while my colleague scoured repositories across the Mediterranean and my project leader explored material in the British Isles. Disseminating our research led me into often unexpected situations, ranging from giving formal lectures in embassies in London to leading workshops with bemused schoolchildren in Warwickshire, but working on the project always remained an adventure!
One drive to take my current role at Surrey was the opportunity to influence university policy aimed at benefitting researchers. At King's I was on the receiving end of national initiatives aimed at improving the experiences of Early Career Researchers, especially the Researcher Development Concordat of 2019, gaining first-hand experience of how the principles enshrined in the Concordat could help develop researchers and their careers. Although I am still in the beginnings of my role at Surrey, I am already enjoying the challenge of putting the Concordat's principles into practice and using my own experience to inform how the university can maximise the potential of their researchers.
Contact email: m.whelan@surrey.ac.uk