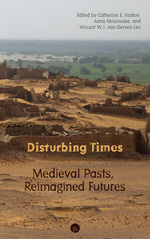 In 2020 an article was published to which I contributed, written by Catherine A.M Clarke with Adam Miyashiro, Megan Cavell, Daniel Thomas, and Stewart Brookes. Entitled 'Twenty-five Years of "Anglo-Saxon Studies": Looking Back, Looking Forward', it appeared in the volume Disturbing Times: Medieval Pasts, Reimagined Futures edited by Catherine E. Karkov, Anna Kłosowska, and Vincent W.J. van Gerven Oei (available to download for free).
The co-written article was derived from a roundtable in which we all took part, held at the International Medieval Congress at the University of Leeds in 2018. In that session we reflected upon how the field of what we might now call early medieval studies had been transformed since the first ever IMC, held quarter of a century earlier. A summary of the session is available here.
My own section of the article, entitled 'Intersectional Feminisms and "Anglo-Saxon" Futures' reflected on the extent to which postcolonial feminism in particular is still not mainstream in early medieval studies, and on the impact both of the #MeToo and anti-racism movements and of white supremacist appropriations of the "Anglo-Saxon" history and culture.
As I move forward with my own research and teaching, I have become increasingly concerned about the limitations I have set myself and, more importantly, my students in focusing on English and continental women's literary culture rather than taking a more global perspective. As a consequence, inspired by the Medievalists of Color organization and the RaceB4Race conference series and network, I am currently co-editing the Palgrave Encyclopedia of Medieval Women's Writing (500-1525 CE) with Liz Herbert McAvoy (Swansea University) and Michelle M. Sauer (University of North Dakota).
This online encyclopaedia will locate medieval women's writing within its cultural, social, religious and political contexts. It will be the first online encyclopaedia devoted exclusively to medieval women's writing focusing on the thousand-year period between 500-1500. Crucially, the Encyclopaedia will cross national boundaries, and will extend beyond works written in England to include Ireland, Scotland and Wales, as well as Europe, Asia, Africa and India.
Looking back has pushed me to look forward to a more inclusive, global approach to medieval women's literary culture.