Hello all~ It's Lok Kwan here today:)
Yesterday was a great day for me since we had a fight camp for our Taekwondo team. As you may know, Surrey has a variety of clubs and sports teams which you can choose to join any of them depending on your interests! One of the clubs I have joined is the Taekwondo team. Since I had practised Taekwondo when I was small, I decided to pick it up again as a sport this year when I came to Surrey. The fight camp yesterday was collaborated by the Taekwondo teams of Surrey and UEL (University of East London), our sister Uni. It was basically a day spent meeting friends, getting fit and working on techniques for the up and coming competition on the end of February, the 30th Annual Student National Taekwondo Championships! It is one of the biggest Taekwondo events in the year and we are all practising hard and looking forward to it.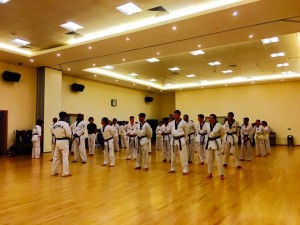 Here's a photo of all of us lining up in belt order and we were ready to go!

The fight camp yesterday was held in the Surrey Sports Park (the photo above), which is one of Europe's premier sites for sports. It has been selected as a training base for quite a number of sports events including London 2012 Olympic and Paralympic Games and also played home for the Rugby World Cup 2015 recently. It consists of a wide range of facilities including a gym, basketball courts, football and rugby pitches and an indoor 50 metre swimming pool. Different classes and courses like Pilates, ballet and yoga are organized and can be attended with a membership depending on your interests. They have even organized professional courses such as national pool lifeguard qualification. The sports park is located in the Manor Park Campus and it's just around 20 minutes away from the Stag Hill campus on foot (10 minute for bus), which is really convenient for students. Here's the link of the Surrey Sports Park if you are interested in it: http://www.surreysportspark.co.uk/ After all, student life is not only about studying, but also striking a balance between workouts and having fun!
The evening after the fight camp was Lunar New Year Eve. I'm pretty sure that you all in Hong Kong had a wonderful New Year Eve dinner last night, right? As the Chinese saying goes, on festive occasions, more than ever one thinks of one's family far away. This is so true to me! Fortunately, a few of our friends were able to gather together to have a plentiful meal last night, with different dishes such as sweet and sour spare ribs, boiled fish in hot sauce and tofu shrimp soup. One of our friends even made egg tarts! Even though there was nothing related to Chinese New Year… So, how did you all celebrate your Lunar New Year?
Our second semester starts off today, exactly on the Lunar New Year Day! What a good start for our monkey year! I wish all of you a happy, healthy and prosperous New Year and may all of us excel in our studies! Gung Hei Fat Choi!!:D