Hello all~ How's it going?
Last Wednesday was Surrey's biggest sporting event in the year, the Varsity! It was in its seventh year which brought together the University of Surrey's Team Surrey and Kingston University's Kingston Cougars in a day of sporting battle at our Surrey Sports Park.
Over 1500 students were playing against Kingston University with almost 20 sports from rowing to cheerleading and from mountaineering to canoe polo! The scoring system was a "points per sport" system which a win equals to 2 points, a draw equals to 1 point with a loss giving 0 points.
With the first ever Varsity declared a draw, Team Surrey since then, have won Varsity for 5 years in a row against the Kingston Cougars. The day was enjoyable with a great atmosphere and you could hear cheering for Surrey at every corner in the Sports Park throughout the day.
With no doubts that our Taekwondo team also participated in the Varsity and we were able to win over Kingston's Taekwondo team by 3-2 which contributed 2 points to our overall score.
This year's finale was Women's and Men's Basketball competing in a double header. The finale was kicked off by the cheerleading battle with a great performance from both Surry Angels and Kingston's cheerleading team. It's a pity that Team Surrey's Women's Basketball team were unable to lead from the beginning of the finale. Even though Team Surrey's Men's Basketball team performs extraordinarily well later on, we were still unable to overpower Kingston Cougars in the finale. Fortunately, Team Surrey performed very well in other sports which turns out that the overall score was 37-9 to us. With this year's win, Team surrey have won Varsity for 6 years in a row, from 2011-2016, against Kingston Cougars!
I'm really proud of Team Surrey and I hope we can have our 7th win in a row next year!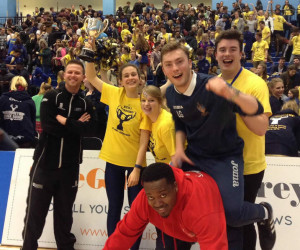 By the way, it's the middle of March already and the weather here these days is so nice!! I can't help taking photos (posted below) this afternoon when I was walking through the campus! Haha maybe I will post one of them onto Instagram as well but anyway, spring is definitely coming! And I'm already looking forward to my Easter break~:P