Hi, how is going?! It's me, Diana! 🙂
Did you find the post from last week useful?
I will be updating this blog every Tuesday and I really would like to be more engaged with my readers, so your feedback is very important to me. And I was just wondering what kind of things you will want to know more about. If there is anything specific that you want me to write about then please feel free to comment here or email me. 🙂
Today I think I will talk about what I have been doing since I came back to uni. Apart from working on my degree and looking for a placement, I am also running a society. As some of you already know, I am the president of MindSoc (Surrey's Mental Health Society). Last week, we organised a Meet & Greet evening for our members and freshers. It was great meeting everyone and we shared our thoughts and plans for this year. So we are now organising some events for this semester and also planning ahead for the next one. We are working with the Psychology Society for a joint film night next week to celebrate Halloween and also to raise awareness for mental disorders. (More details will be on next week's blog post.) Stay tuned!
Surrey Hong Kong PASS Society is organising an annual welcoming dinner for the members and freshers next week on 26th October at Beijing Restaurant in Guildford.

During the session, a Meet & Greet event will be organized prior to the great meal. It should be a fantastic moment to spend time with people whom share the same experience. Make sure you sign up for it!
Surrey HKPASS is a non-profit making, student led society. As the name suggests, the society aims to raise awareness on any public issues regarding to economic, political and social affairs of Hong Kong, the UK and other parts of the world. The society also aims to encourage students to involve and contribute more to the local community in HK and UK through participating in different social services and events. 
You can find out more about the event on: https://www.facebook.com/events/1601807296787147/?active_tab=about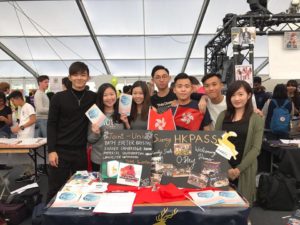 *PASS at freshers' fair!
There are also Surrey Hong Kong Society, ABACUS and Chinese Christian Fellowship if you are interested!
Hong Kong Society: https://www.facebook.com/groups/surreyhksoc1516/
ABACUS: https://www.facebook.com/groups/487764061406061/
Chinese Christian Fellowship: https://www.facebook.com/Surrey.USCCF/
This is it from me today, hope you enjoyed reading this post.
See you next week! D.