Hi everyone! Hope you are doing well!
Thanks Jelena for sharing her placement experience with us, I found it particularly useful since I am now looking for a placement; and thanks Katie for sharing some tips with us for how not to procrastinate! It is so nice to have more people blogging and sharing their different and unique experience! I can't wait to finally meet with them! 🙂
So this week has been very hectic for me due to society's events and essays. But, I finally submitted my last piece of assignments on Tuesday and now I am free from essays and lab reports! I am working as a student ambassador at surrey but I also waitress for one of the asian restaurants on campus. I only started to work at Young's Kitchen this year and I have loads to share with you guys! On Sunday, Young (my boss, owner of Young's Kitchen) had organised a Staff Christmas Lunch for us and it was so nice to see everyone not in their uniform haha. Young prepared a 3 course meal for us and it was so delicious. Since me and my friend are vegetarian, she had prepared us special vegetarian food and a roast for other people. After lunch, we danced and played some games to get to know each other a little better.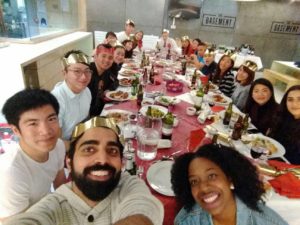 You hungry ay?
---
And on Tuesday, MindSoc had organised a Mindfulness Evening for all students to destress a little. The Yoga Society ran a short yoga session for us and demonstrated a short sequence which students can easily practice at home! Before finishing the event with a meditation session, we did some colouring and shared about our thoughts and opinion on mental health and the stigma around it, especially at university and people our age. Finally, ZenSoc led a mediation session and it was super spiritual and relaxing. It was my first proper meditation and it felt amazing! I can't even describe it in words. You have to experience it yourself to understand the feeling. I will definitely try to practice meditation more often in the future.
Sorry, couldn't take any pictures during meditation as it would distract other people and interrupt the session.
To find out more, please visit their page:
MindSoc: https://www.facebook.com/SurreyUniMindSoc/?fref=ts 
YogaSoc: https://www.facebook.com/YogaUniversityOfSurrey/
ZenSoc: https://www.facebook.com/ussu.zensoc/?hc_ref=SEARCH&fref=nf
---
This is it from me today! I can't wait for christmas to come and wish you all a wondering holiday! Merry Christmas!
See you soon! Diana x