It is officially winter break!!  I hope everyone is enjoying their well-deserved break.  I hope you are enjoying my content so far, do let me know if there's anything you want me to focus on.
For the past week, I was feeling quite stressed about my exams and course works and I felt like it was all getting a little bit too much.  So, I decided to have a relaxing weekend to myself where I would do whatever I want without feeling guilty.
There is nothing better than waking up naturally, I woke up around noon and for once had a breakfast that was not rushed and the fact that my roommate had the time to enjoy it with me made it even better!  We decided to walk around town and do some shopping, although, after a very depressing trip to the bank, we thought we would change it to window shopping.
After a 2-hour cardio session where we literally visited all the different shops, including WaterStones's which never fails to impress me, my friend brought me to this cafe off the highstreet. It is a very cute cafe called Kalm, we tried a white chocolate brownie called Blondie with two lattes and it was absolutely fantastic!  Before I left, I saw on the window that they sell matcha latte, it was like bumping into an old friend you have not seen in ages!  Matcha is not as much as a common flavor as it is in Hong Kong and I have missed it so much!  It is such a shame I did not see it earlier but I am definitely going back and getting one!
Here's a link if anyone's interested 🙂
The weather was lovely so we thought it would be nice to go to the Guildford Castle which I have not been.  It was a wonderful walk and Guildford just looked a bit different, maybe it was because I was feeling less tense as well.  The castle was built around 1086 after the Battle of Hastings, it is mainly used as a royal residence but also a fortress.  They also have a garden has an array of flowers with bright colors.  However, I am no expert so I'll attach some links for further information.
History of the Guildford Castle:
https://www.guildford.gov.uk/guildfordcastlehistory
https://www.guildford.gov.uk/castlegrounds
Opening Times: https://www.guildford.gov.uk/castle
Address: Castle St, Guildford GU1 3SX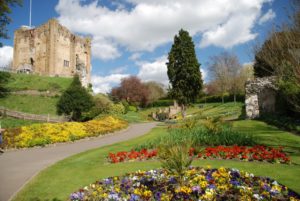 Finally, saving the best for last, we went to a Chinese Restaurant near where I live called Beijing, but the Chinese name of it is actually not 北京 but 中華.  Anyways, my friend really enjoys Asian food in general and it's been a while for me so we decided that was not a better time to splurge.  The interior design of the restaurant was very modern and the atmosphere was great!  The menus are in both traditional Chinese and English which really helped me because I also had trouble understanding the translated (English) version.  Also, most of the staff there speaks either Cantonese and/ or Mandarin so feel free to order in your mother tongue and dazzle your friends! 😛
http://www.beijingrestaurant.co.uk/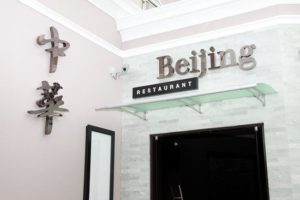 Wishing everybody a wonderful holiday!