Hello everyone,
It happened few days ago in one of my seminar, my coursemate share their concern about their prospective careers after their final year undergraduate studies. Of course I equally synchronise their feeling, and it leads me to start thinking about the opportunities I can receive so as to maximise my employability . It is understandably reasonable that some people (it could be law students) devote much of their time to academic studies during the university journey. There is no doubt, as I also agree, that pursuit of academic achievement is the major purpose of which we study aboard. The University cares about our future; indeed they wish us to maximise our gains in the undergraduate journey. That is why the overwhelming majority of undergraduate and postgraduate programmes is integrated with a professional placement year.  Some of us may have come across the term 'gap year' in university studies, does it really mean the same?
Well, yes and no. University students in Hong Kong always make good use of their 'gap year' opportunities. Most of them try to gain exposure to workplace while some of them enrich life experience through a working holiday. In this context, it is easy to say that we want to discover possibilities beyond universities, and that is also the principle of a placement year. What's more, that placement year at Surrey is course-specified, aiming to provide work integrated learning experience to students. It means that students are actually being encouraged to put study ( of their first and second year) into context within a professional environment.
In a practical sense, Surrey has developed a network of 2300+ partner organisation in the UK and overseas. Although it does not mean that every student can be 'allocated' into one of the placement opportunity, with the strong support by the university itself (1. Employability and Career Centre  offers a wide range of  employability supports from CV writing to assessment centre skills.  2. In some faculty like engineering, somehow professors have strong connections with placement employers), the chance to experience work-based learning is significantly higher here at Surrey.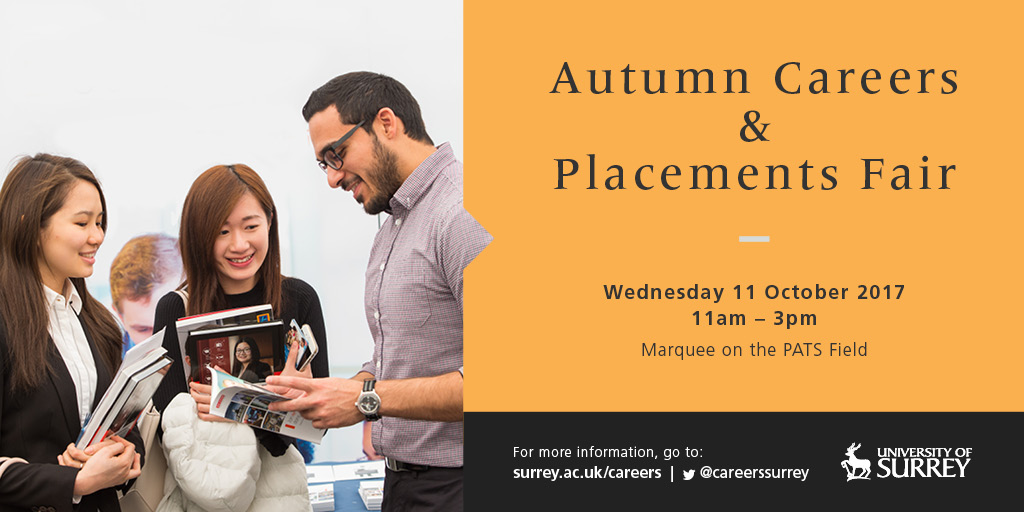 (Every year there are nearly a hundred employers participating in the University of Surrey's careers and placement fair )
Although I eventually chose not to enrol in the placement pathway(it is too late to regret), many of whom have done/are doing a placement year unanimously agree that this is a valuable chance to gain an insight into a professional environment. Specifically speaking in Sociology, one of my coursemate has just returned from her placement at Surrey County Council and another is enjoying his placement in the University.  Since they are both from Hong Kong, let's see if there can be a chance to invite them talking a bit more about how they think about placement year in the blog. Until then, do keep an eye on Diana's updates about her very own experience of psychology placement year.
Get to know more about what is a placement year here !
That's all for now.
David