The pandemic has definitely changed the way we hold celebrations whether it be festivals, holidays or birthdays and Chinese New Year (CNY) is no different. I still could not believe it was almost one year since the last trip I went with my family to Taiwan during CNY holidays. With travel on hold, there is still plenty to do in Hong Kong for this year celebration that I would like to share with you!
First and foremost, let me introduce you the stories of CNY. The festival all started when Nian (which means "year" in Chinese), a terrifying sea monster with sharp teeth and horns left his home and went ashore around the time of Chinese new year. A god, disguised as a wise old man visited the village and decided to decorate his house with red papers, create loud crackling noises by burning bamboo, and wearing red clothing and lighting candles to scare away monster Nian. The CNY traditions of wearing and decorating with the colour red and lighting firecrackers were then created. The zodiac was named according to the order of each animal in a race organised by the Emporer from Heaven, the Jade. He invited twelve animals to take part in it and Ox came second after rat.
Given that Chinese New Year is a time of celebration and family reunions, the safest option we can have to celebrate is at home, with health protocols in place. The good thing about celebrating at home though is that we can bring a bit of everything to the table—Chinese New Year puddings, candies, poon choi and even hot pot. With no surprise, my family followed every year's tradition and made poon choi with steamed cakes.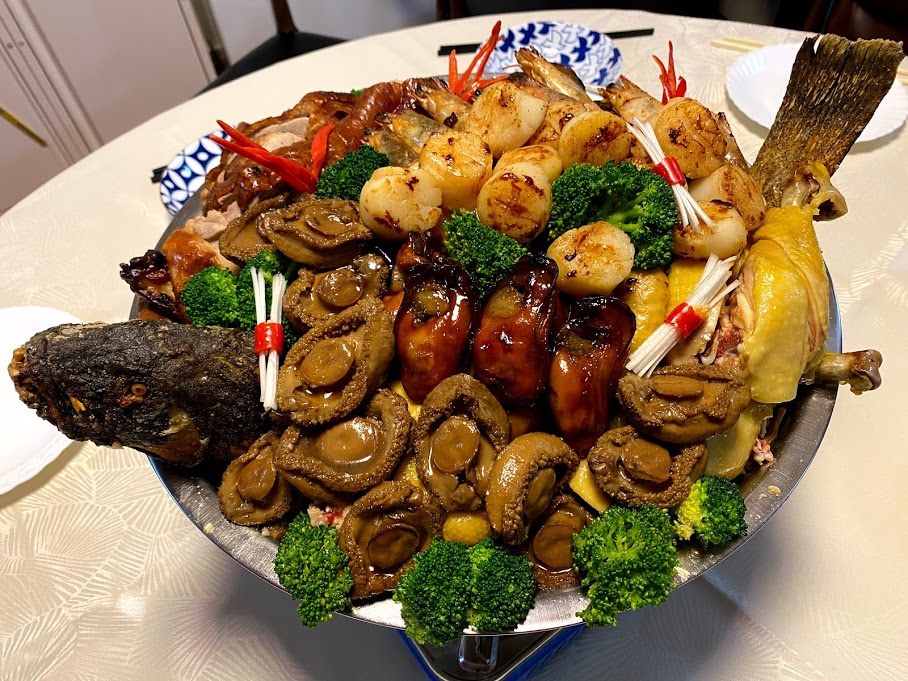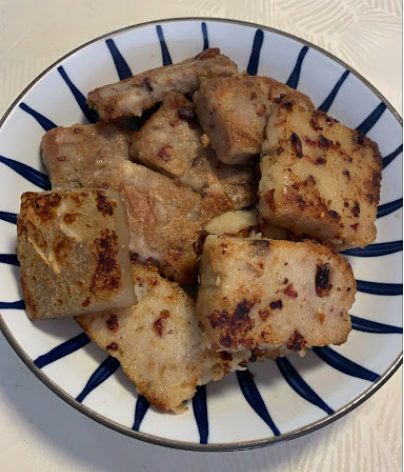 Thanks to my mum's hard work, we all enjoyed these fantastic CNY dishes and had an amazing reunion time! With travel on hold, we moved the reunions with family and friends from across the globe to Zoom and Facetime. Frankly speaking, the feeling was slightly different when we could not actually share a meal together or even just give a hug to each other. Still, we bought some Chinese New Year flower from the flower market for extra luck and a festive atmosphere. We also put on the face masks with festive designs including elegant floral motifs, stylish Chinese ink paintings and auspicious cartoons. 
In Chinese New Year, red packets (laisee in Cantonese) are a common sight at new year, bearing cash and well wishes for an array of people. Married family members give them out to children as a symbolic gesture of blessing and extra pocket money. In the workplace, bosses give them to employees as encouragement for harmony. In return, recipients offer well wishes. How you guys gonna spend the red packets? Comment below!
Last but not least, we filled our candy box and decorated our home with faichun. Candy box is traditionally made in a circular shape and coloured in red, comes with several dividers for families to fill it up with different types of candies, nuts and seeds. Seen as a symbol of luck and togetherness, the box of goodies is usually offered to guests to snack on during Chinese New Year. Apart from those must-have items like lotus seed and white rabbit candy, we also added some of our favourite snacks inside such as Kitkat, Lindlt chocolate. Every day we were like marking a spot around the candy box and tried our best to engulf those sweets haha! Faichun is the red banners written in calligraphy that express good wishes. Here, I wish everyone good health and best of luck in the coming new year.
San Nin Fai Lok (Happy New Year)! See you guys on the next blog!