Hi guys,
Hope you are all enjoying the holiday season because here in Guildford, the university and town is displaying its Christmas glory. By this time, you must know that Christmas is the biggest celebration and is quite like the Diwali of UK. The air is getting colder and coats are getting puffed up and I can feel the cold air against my face, although it was a tiny bit difficult for me to get used to having lived in a place where the average temperature is 35-40 degree Celsius.
But, as I'm writing, on the fifth floor Duke of Kent building, I cannot describe how beautiful the view is with the sun shining surprisingly bright this morning … giving me that warm and fuzzy feeling.
To kick start the festive season, the university organised a winter's fest which took place nearby the Christmas tree. There were a couple of stalls and traditional mince pies and drinks were served along with performances by the Music society, Salsa society and Cheerleading society. My fridge is stocked up with chocolates and puddings and it is becoming extremely difficult for me to pretend they don't exist (I have the biggest sweet tooth ever). *sigh*.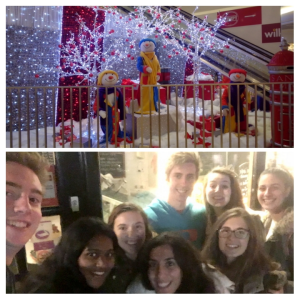 This picture was taken when I went to town with a few friends to watch the lights in the high street being switched on as well as to get some christmas shopping done.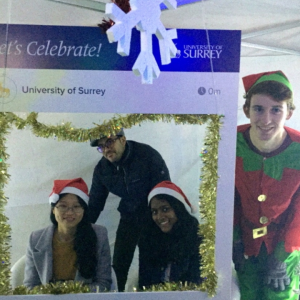 Selfie booth! With friends during the Winter's fest.
On the academic side, each student will be allocated a personal tutor and student life mentor (for those of you living on campus). As their name suggests, student life mentors are a moral support and they will be there to assist you with your new way of life and even home-sickness. Personal tutors are subject matter experts in the course you choose and they are the point of contact for each student in the university for anything course related. These two people are very important during your time in the university.
My personal tutor and I have regular meetings and she talks me through the important things I need to do in order to become successful. Recently, I was a bit worried about the grading system and a specific coursework I needed to submit, so, she immediately made an appointment and carefully explained the details.
Other than people, there are huge numbers of sources to be of service to you inside the library and I will write a bit more about the library next time. (By the way, a cute Christmas tree has been set up at the entrance)!
Wishing you a joyous holiday season!
Merry christmans and a Happy New Year!
Tejasvi