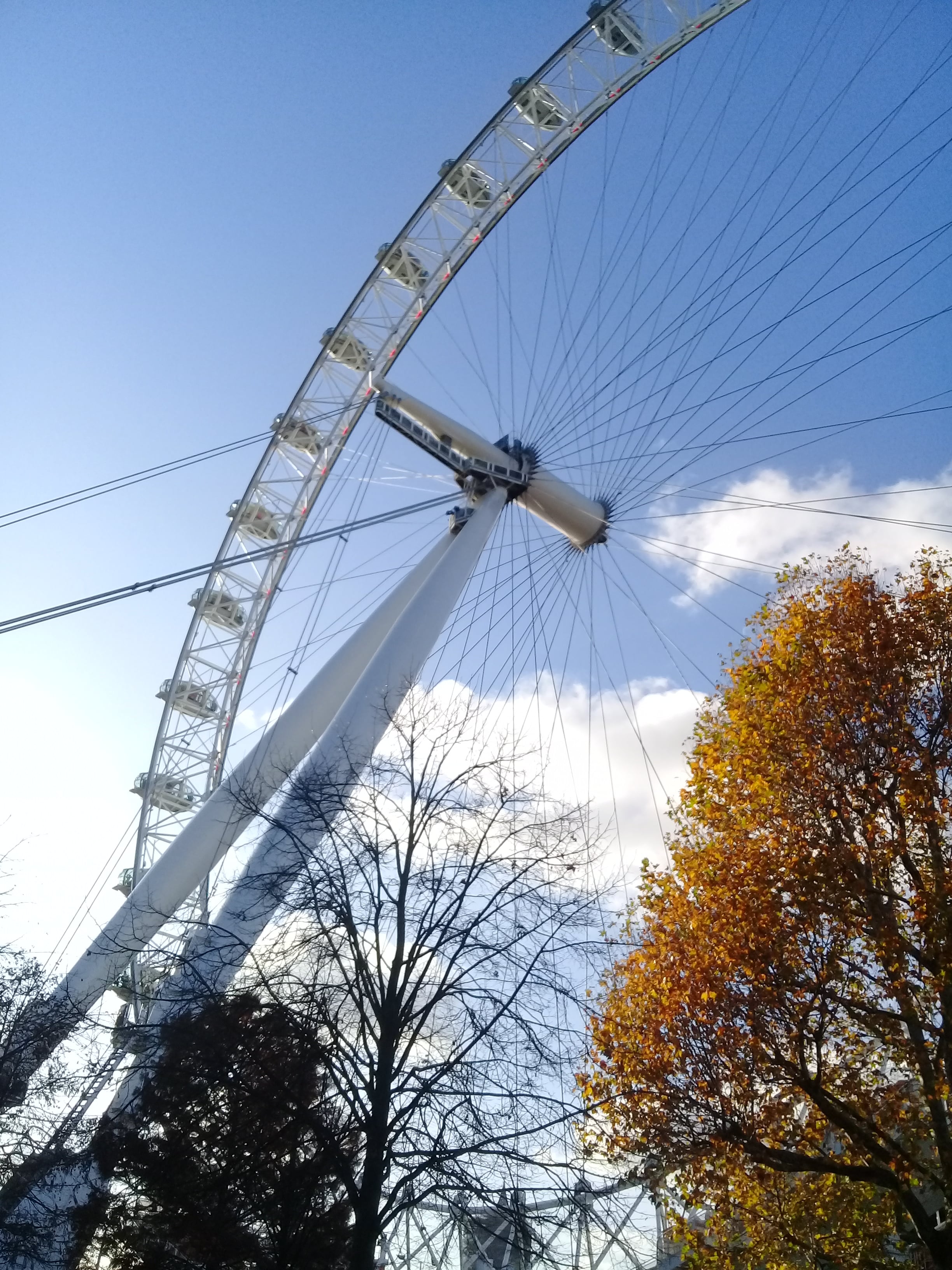 Quite a few times I overheard a saying that Guildford has a blessing and a curse. The blessing is that it is really close to London and the curse is that it is really close to London! Although the cost of living in general and the accommodation prices, in particular, are comparable to London (a.k.a. very high), in this post I am going to cover how fun it is to be so close to the capital of England. Instead of writing on the top touristic attractions, that you can find anywhere, I will tell you what I enjoy doing when I go there. Of course, some of my favourite stuff overlaps with mainstream sightseeing too, but that's probably because in such a big city I feel like I'm forever a foreigner.
1. Walk Around the Thames
The train from Guildford to London arrives at Waterloo station, which is very central and close to the Thames river, my favourite part of the city. There are pedestrian routes everywhere in its banks and it is so pleasant to just walk around it. You can see old buildings and modern ones and with a good tourist guide, you can get bits and pieces of the story of London, the division between the North and South parts and the major developments of the city. A few key touristic attractions that I love such as the London Eye, the Westminster Palace, the St Paul's Cathedral and the Tower of London are by the Thames. Also, thanks to the river West-East orientation in part of the city (look at the Geographer speaking), you can get a fabulous sunset from here. London never stops and there are tourists literally everywhere all around the year, but there is enough space in the pedestrian parts to frame your exclusive picture by the river!
2. The Natural History Museum
Most permanent exhibitions in museums around the UK are free, although they ask visitors for a donation to maintain their services. I enjoy going to museums and I particularly love the Tate Modern collection, which is also by the Thames river. But my favourite one is the Natural History Museum (here goes the Geographer again). It is a monumental structure with millions of items in geology, palaeontology, botany and much more. Every time I visit it I am flabbergasted by its size and collection (I had to look on Thesaurus for a really strong word, stronger than surprised, stupefy or astonished). They have fossils, skeletons, maps, minerals and a wonderful earthquake simulator, which make it really friendly to children but adults also can enjoy (as I do)!
3. Kyoto Garden
There are several beautiful parks in London, including the Regents and Hyde Parks. I enjoy visiting all of them, they offer a chilled alternative to the noise of the city — and I love listening to Blur's Parklife song when I'm there! However, my favourite one is the Holland Park which has the Kyoto Garden, a beautiful garden inspired by the Japanese ones. It is definitely worth the magic of its cute waterfalls, ponds and maple trees in the middle of London!
4. World Food
For me, the most interesting feature of London is how cosmopolitan it is. You see people of so many ethnicities everywhere, it is amazing! I bet I heard more than 10 different languages being spoken last time I visited it, not to mention the variety of accents. This blessing comes with a variety of food stores! I probably mentioned already I am not a big fan of traditional British everyday food with their deep-fried breakfast and potatoes almost every lunch — I hope no British reads this blog. In London, however, I had tried Mexican, Kurdish, Greek, Italian, Japanese, Thai and even Latin American and Brazilian food. Since there are people from so many places, you can find authentic world food in huge a city like this. It is a unique privilege to smell and taste these different flavours all in one place!
5. Nightlife in Leicester Square and Soho
Probably one of the most buzzing parts of Britain when it comes to nightlife, Leicester Square, Soho, and their surrounding areas offer a variety of stuff for different tastes. There is opera, theatre, dancing, contemporary art, cinemas, restaurants, bars, pubs and clubs running until late. It is usually pricy, but you can also get good happy hour deals, for example, if you do some research beforehand. Just walking around and watching the movement is great, but I also love The Yard bar, which is free entrance and it has all these tables in their yard. Such a cosy and friendly place!
By the way, my supervisors did not come back from lunch since I started to write this post, so no mince pie or Christmas Puddin for me in 2019. 🙁
Thanks for reading!