Let's start the year with some work and some decisions!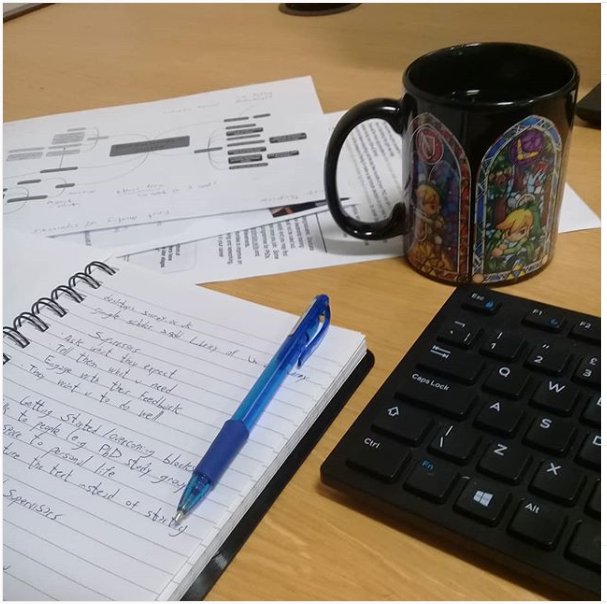 So you've decided to come to Surrey! What's next? Surrey, as well as most universities in the UK, uses an online application system. You will have to check what documents you need to scan and submit through the system as well as important deadlines. In this post, I am going to share how was my application process to study my postgraduate degrees in the UK as an international student.
By this time of 2019, I had already selected a few universities to study my PhD in the UK and had submitted my application form and my documents to Surrey. On 8th Jan 2019 I was being interviewed by the Postgraduate research director and by my potential supervisor about my research proposal and by the end of that week I was submitting the scholarship form. As I wrote in my first post, I have got a Vice-Chancellor Studentship Award to study my PhD, which covers my tuition fees and living expenses and is the only reason that I am at Surrey today. I applied for quite a few PhD scholarships in the UK and elsewhere (hey, New Zealand!) and I gained some knowledge of the application process. So I'm going to share what I consider to be three tips for international students who want to study in this country (or elsewhere) with a scholarship based on my experience.
1. Research
Every university has a different website, but they are usually arranged in a similar structure. Finding the international students' webpage and the fees and scholarships section is how I started my search. You must read through the application process and the selection criteria to see what you have to do. In the master's level, most universities will ask for a diploma, a transcript of records, a letter of motivation with no more than two pages, a Passport, an English language proficiency certificate (in case your first language is not English) and two letters of recommendation that should be written by professors or supervisors that know you well. Documents in a foreign language must be translated by an official and recognised translator, but some institutions might ask more complicated processes such as sending them by post or asking for an Apostille, so be sure to read all the details. At the PhD level, they also want to see a research proposal, which usually should be previously discussed with someone at the institution. I applied for two different studentships in Surrey and they had specific deadlines, templates for the research proposals and asked for signatures from members of the staff. Even though most application processes are similar, they all have small differences that you must stick to in order to be considered. You don't want to have a desk rejection because you did not submit the application on time or because you forgot to send one document, so make sure you note all you need to submit.
2. Plan Ahead
Funded postgraduate positions have strict deadlines to submit the application so make sure you stick to them. I had a friend looking for PhD opportunities at the same time I was, so we had a shareable Google Drive sheet that we used to work on together and make notes of requirements, deadlines, professors we contacted or wanted to and results. We also supported each other, especially when we received rejection letters! Professors are busy people so make sure you reach them for your letter of recommendation or for feedback on your research proposal giving them enough time. Follow up, in case they don't reply. I reached my prospective supervisor at Surrey for the first time on the 31st of October 2018 but only submitted my research proposal on 2nd December 2018. She was happy to give me two feedbacks on my proposal and I also had enough time to work on it to make a good case. If you need to take an English test and to translate documents, for example, it's also better to arrange everything well in advance because these things take time. Trust me, you don't want to rush to a busy web application system at the last minute!
3. Talk to other people
Do not underestimate the valuable contributions that friends and professors can give you. Some of them might have passed through similar experiences or have a stronger command of English language than you do, so they can proofread your letter of motivation or other documents. Even though there's a lot to read on university's websites, the institutions also have staff working to answer your questions and do not hesitate to reach me to ask for clarification. When I started to apply, my brother was also a PhD student and he could give me feedback on my research proposal.
Note: Undergraduate courses have some differences that I did not cover in this post because I did not go through it, but you can find information on the international foundation year in Surrey, for example, on this website.
Mum, I'm on TV! This week I'm excited to participate in the pre-departure webinar to international postgraduate students arriving at Surrey. The university also has a webinar on the application process in case you want to know more, keep an eye on here or here. Most webinars will have student ambassadors like myself ready to answer questions of prospective students. Last year I was on the other side of the table, asking questions, and this year I'm on this side, answering them! It's thrilling, but I think I'll need a haircut before it.
Thanks for reading!