Hi guys!
Apa khabar? Done with exams? If not, hang in there…we are all in this together! I still have one more paper and then I am done with my second year. I'm actually unsure if I am happy about it or upset that the year went by so quickly. This year has been an amazing year for me. Hopefully it was for you too. I would just like to share my story of this year's highlights.
Firstly, the best thing that has happened is the new friends I made during the year. I took the initiative of joining new societies this year and that gave me the opportunity to meet people from different parts of the world. As I joined the Sri Lankan society, I extended my circle and make friends that I will surely keep close for life. I joined the society mainly because my roots are traced back to Sri Lanka I would love to have known more about the country and culture my great line of family members were from. I felt that it was a shame that I did not know much about the country. Well, it's never too late to learn right? The warm welcoming people in the society just got me hooked to it and had no choice but to keep on coming to the events and become an active member. I was nice of them to believe in me and elect me as their committee member (after being forced into it).

This year has also been crazy on how I met my second cousin for the first time. She is a gem of a person. You can never feel down or bored with her around. Sadly she was only here for one semester as she was an exchange student from Monash University, Sunway. Coincidently she was in the same house as my previous housemate. It started off as us just having a little chat about her whereabouts in Malaysia. It was only after the 2nd time we met that we casually talked about our families and later found out we were family ourselves. Crazy isn't it? Don't be worried about not being able to make friends here. Who knows you might even meet your family here. Wonderful things do happen here at Surrey!
The next would be my fieldtrip to Morocco. As part of my 'Tourism Theory in Practice' module, we travelled to Morocco with my 38 other classmates and 2 lecturers. It was a life changing experience, mentally and spiritually. It changed my perception towards the tourism sector and the way I looked on life. We had to critically analyse the impacts of the tourism sector of Morocco towards the society, economy and environment. We often associate tourism with only the economic benefits but this trip gave me a broader view of how significant the impacts of tourism are, whether positively or negatively. At times, tourism may even threaten our own culture and heritage. Additionally, during the trip, the simplistic yet content life of the camel handlers and changed me positively. I have personally started appreciating all the little things in life more. The fun part of this trip was definitely the two days in the desert which includes riding a camel (both fun and painful!), stargazing and watching the sunset in Sahara desert. The Morocco trip wouldn't have been the same without the people we travelled with and the very dependable tour guides. Having to live with my classmates 24/7, it gave me the opportunity to get to know them on a whole deeper level.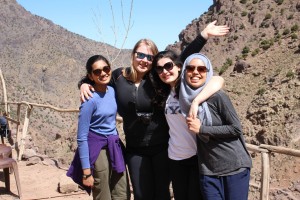 Well anyway, so many things have happened during this year and it wouldn't have been possible without the awesome people helping to run the university modules and activities. As they all say, ''wonderful things happen here''.