Hello Hello!
Just a couple more days till I'm done with my second year at Surrey University; time surely flies by when you're having fun  😀
Since many of us are half way through our exams, the after examination plans are in full swing! Probably the highlight of many students is definitely the End of The Year Show (EOYS) 2015; 3 nights lined with artists such as Fuse ODG and Philip George from 11pm to 6am as well as the must-go-to lake party from 4am onwards early Saturday morning.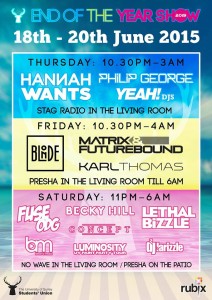 The hype for this was insane! Tickets went on sale at 8am on Sunday for final year students and then at 9.05am for the rest of the university. Wristbands (which guaranteed entry for all 3 nights) as well as individual night tickets sold out within minutes. After much discussion with my friends, we decided to skip the EOYS. Instead we've got our week sorted with nights out into town, Indian curry & thosai nights, house parties as well as the lake party.

The nice thing about Guildford is that there are still many options for students who may not want to go for the EOYS. Many sports and club societies usually have an end of the year meal or social before the summer holidays. Since Guildford is a university town, the many pubs and clubs in town have various themed nights lined up which coincide with the end of exams.
For those who want to take advantage of the sun, why not do a BBQ with friends? I definitely am planning to have one before heading off to Swindon for placement year. Even if you don't have a BBQ set, The Co-operative and Tesco sell DIY BBQ sets which split amongst friends, is a steal.
If not for my placement beginning mid-July, I would have definitely travelled Europe beforehand. There are so many places to visit and with hostels in abundance, travelling has never been so easy or affordable! Many friends have taken this opportunity to go to places like Greece, Malta and Spain during this time.
There are also lots of events occurring in Guildford as well as neighbouring towns and counties.  Guildford Summer Festival for instance (http://www.visitsurrey.com/events/guildford-summer-festival-2015-p1167921 ) runs from June12th till August 8 and has over 100 different events to choose from such as the Guildford Festival Craft Fair, The Guildford Annual Beer Festival or thre Farmers' Market.
With so many events going on, there's no chance of becoming bored!
Till next time; Selamat tinggal!