Hi there!
It's beginning to feel a lot like Christmas especially with everyone counting down the days with his or her chocolate advent calendars. Even I've got my own at work, which I eagerly look forward to opening every day!
This year feels very different compared to the previous years. For one, I've really gotten into the spirit of Christmas this time around! A big part of that can be attributed to my placement company. As soon as my colleagues found out that I'd never celebrated Christmas before, they took it upon themselves to ensure I got the full experience. That included decorating the Christmas tree at work and having my desk covered in tinsel, a miniature tree as well as a snowman 🙂
I've been to my department's Christmas lunch, which was absolutely delicious. I must admit though afterwards, all I wanted to do was sleep! This is a picture that my colleagues captioned as 'Christmas throwing up on me'.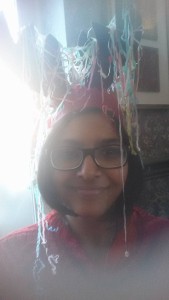 Next week includes our company Christmas party as well as Secret Santa where everyone chooses a person and presents that person a gift. Everything is done anonymously though hence the name Secret Santa. We also have Christmas jumper days where every Monday & Friday has everyone in my department turning up in their Christmas jumpers. Some colleagues have little bells on their jumpers causing them to jingle whenever they pass by which results in a spontaneous outburst of Jingle Bells ☺
Besides work, I'll be spending Christmas this year with a friend who celebrates Christmas. I've never truly understood the stress of Christmas present shopping until now! I have been quite organized though and have spent the last couple of weeks slowly purchasing Christmas gifts. I actually spent the past weekend wrapping Christmas gifts with a friend and it's amazing the different kind of wrapping techniques there are when you're faced with wrapping multiple sized gifts.
I personally am very excited to be able to experience a traditional Christmas this year. This includes a traditional Christmas dinner with Christmas pudding, which turns out, I absolutely love as well as receiving presents ☺
Well that's all from me now 🙂
Till next time; selamat tinggal!